…I just used the wrong word when I said 'ombudsman'. I meant more like 'in-house critic' since, you know, I usually disagree with y'all. I corrected myself later in the thread when I realized my mistake.
Oh well. I expect nothing kinder from Anne at this point. For reasons I cannot comprehend, disagreement on political and economic issues manifests itself into disregard for one another on a much more personal level. I think it is a symptom of an overly political society, one in which ideology and tribal affiliation trumps many other more important concerns. And a symptom, also, of the internet and its seductive anonymity. I try not to say things in posts or comments I would not say to someone's face. Many people, perhaps, speak the same in real life as they do in heated comboxes. Anything is possible.
In any case, I certainly don't need to blog here if that's what people would prefer. I was quite flattered by John's invitation and have nothing but respect for him and other writers here. But I don't want to end up this guy: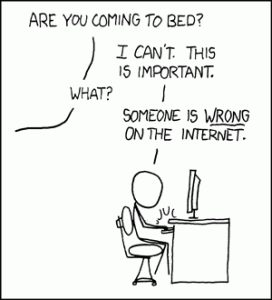 So. Your call. This is your chance to vote me off the island.