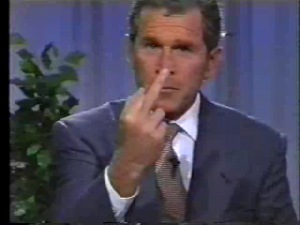 I don't delete comments, I don't ban people, you can say whatever the fuck you want about me in the comments and on the front pages if you are a poster, and it is rare (if ever) that I assert control here, but this is one time. I'm on the bottle, not quite Four Loko but a few shots of Cabo Wabo away from 82 Loko, and I want you all to look up Enlightened Absolutism. There will be no vote on whether ED stays. He has my unconditional and enthusiastic support. He stays, unless he doesn't want to. The decision is yours, ED. Period.
Those who disagree can pound sand.
I'm glad we have that settled now, aren't you? You're fucking A right, it is good to have this debate over. I agree. What? You said something? Whatever.
Deal, bitches.
*** Update ***
Look. This is a real simple principle. I actually have the balls to stand behind the people I ask to write here, unlike Franklin Foer and Scott Beauchamp. When I ask someone to write here, I give them free run of the house. I do not believe in inviting people to write here and then asking them to temper their thoughts or post things to appeal to the dominant mindset, and I don't want people to back down from bucking authority or criticizing the powers that be, and I don't want people feeling like they need the approval of the commentariat to post their thoughts. I knew what I was getting when I asked Michael D. I knew what I was getting with DougJ, MisterMix, Anne Laurie, ABL, Tom, and ED. I don't agree with them all on everything, but I want everyone of them posting here and candidly speaking their mind. I wish Michael D. still posted here.
I just don't believe in giving people keys to the car and then telling them where to drive. That is just how I roll. You can call it authoritarian that I will not listen to commenter voices on whether or not ED stays, but I think it is actually quite the opposite. I've given over the keys to something I've been building for ten years, this website, to a lot of talented, interesting, and thoughtful people. And I hope they all stay as long as they want and always say whatever the fuck they want. Period.