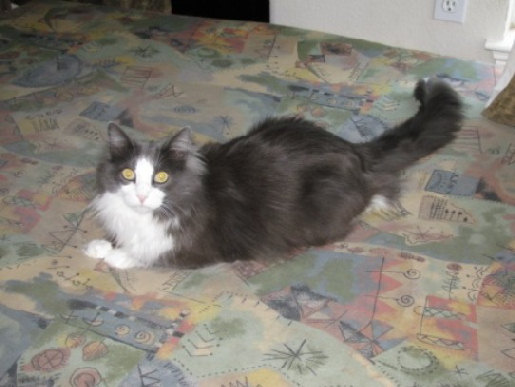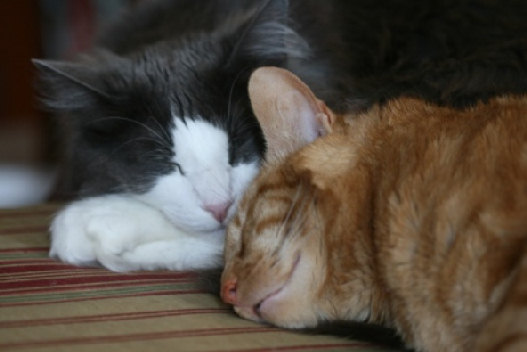 From commentor RoonieRoo:
We have always had rescue cats from the shelters and streets. Mishka has a special story. Mishka is a soul healer. 1999 was not a good year for my soul. Within a 3 weeks of each other, I lost my 13 year old and 10 year old pet rabbits (yes, rabbits), my 13 year old dog and my husband, Michael.
__
That left me and my cat Pernicious alone very suddenly and shockingly. Pernicious, AKA Snic, was a man's cat. He loved Michael. I was loved in a way but I wasn't Michael. After Michael's sudden death, Pernicious lost all of his fur. He was a completely naked cat and I was just a bit insane. Going from a full house with all the animals and a husband to just me and the cat was confusing as well as devastating for both of us.
__
With the animals (Leo, Alex and Darcy) I had been spending most of the past couple of months at my vet as we went through each emergency and eventual loss. The clinic and the vets there knew me very well at that point. Since our vet was also my father's vet, he had let them know about Michael's untimely death.
__
So, I dragged myself down to the clinic. My family had just left after taking care of me while I brought myself back to the point of basic functioning. Pernicious was still mostly naked but he was eating at this point. I got to the clinic and the doc took me in the back and showed me a grey ball of fur and said, "You and Pernicious have had enough death and you need Life right now. This kitten is life."
__
Apparently another client had seen the kitten running near a highway. She grabbed him and brought him to the clinic to see if they could find his home or find him a new home. Dr. Farley did his due diligence and then called me when he could find no existing home that was missing the furball.
__
So, I happily took the kitten and brought him to our sad and broken home. He was about 6 months old and all fur. I came in and sat him down near the entrance. Pernicious came out, looked at him, looked at me, looked at him, looked back and me and seemed to say "What the hell is this and why is it in my house?!?" He then stomped off in a huff.
__
That night the kitten slept in my bedroom but when I got up in the morning the house was filled with the sound of running cats. I found Pernicious in full play mode with the kitten. When he noticed me watching, he just stopped and glared for a few minutes and then went back to playing with the kitten. That was all it took. Pernicious grew all his fur back and he and Mishka became attached at the hip. And we had "Life" in our home again in a soul healing kitten that I named Mishka.
__
Later, when I moved in with my husband John, Pernicious instantly became John's cat and reveled in being a man's cat again. But this time, he had Mishka too and they never stopped playing and being together up until Snic's death at 17.
__
Pictured with Mishka in the second photo is Milo. We got Milo from the shelter 4 weeks before Snic died to help Mishka bond with a new kitten before he lost his old buddy.