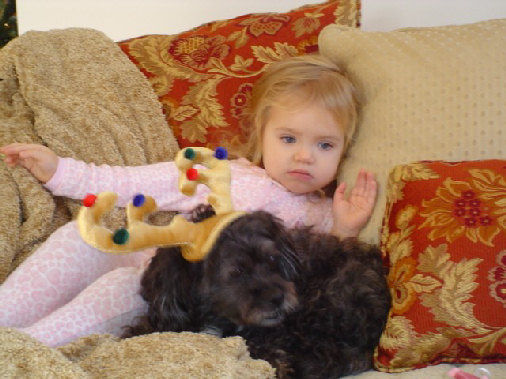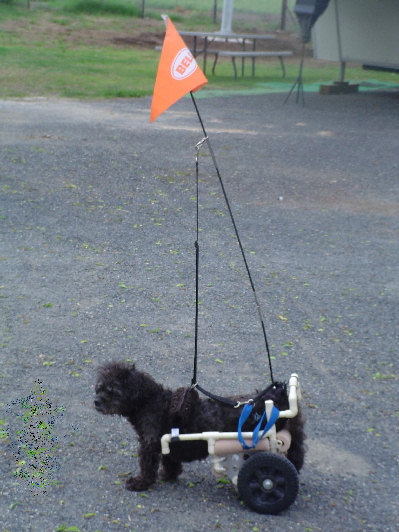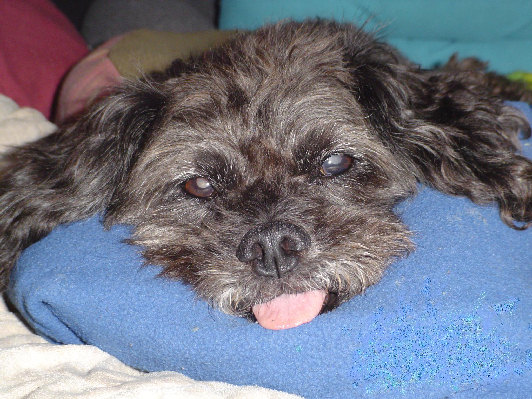 From commentor GrammyPat:
April, 2010: … I give you Li'l Buddy. The first pic is of him four years ago (in all of his patient, 13 yr old, unflappable glory) with my granddaughter, the second is recent. He was not always so encumbered, but he has always been this sweet and tolerant. While he's still with me, I want to honor his contributions to my flawed existence…although I still haven't figured out exactly who was rescued by whom.
__
Sixteen years ago, soon after losing my 18yr old Sammy dog to a car, I saw what looked like a black dust mop wandering (and totally oblivious to everything beyond the end of his nose) in the middle of the street in my native northern Kentucky. I was in the process of relocating to a ranch in the desert of southern New Mexico and the last thing that I needed was a little fru-fru dog. But there he was…and I wasn't going to let someone find their baby like I had found my Sammy. I picked him up, spent the next two weeks making calls, putting up signs, taking him to every vet in the area, running ads…all to no avail. I was reluctant to give him a name and get attached to him because I truly expected someone to claim him so I'd just say "Come on, little buddy" whenever I had to run errands while preparing for the big move. When moving day came and no one had claimed him, I couldn't just abandon him. So I loaded the 1yr old, 12 lb, poodle-lhasa apso mix into the moving van and off we went on our big adventure across the country. The nickname became his official name but he's been called a lot of other things over the years: Pun'kin, Stinky, Damn-You-Dog, Sweetie Pete, and Old Man, among others.
__
At that time, and ever since, he has taken everything in stride. He is the most stoic, big-hearted, good-natured, and even-tempered animal that I've ever encountered. His philosophy in life is, "If it doesn't involve Food…it ain't worth gettin' excited about." (Now that I think about it…That's not a bad philosophy for all of us.) He gets along with everybody and everything…especially if the encounter involves Food. Feed him and he'll be your "best friend in the whole, wide world" but then completely ignore you if/when the Food runs out. Over his long life, he has had a bite of everything that I've eaten…including fruits and vegetables. He has joyfully eaten raw broccoli and celery, sauerkraut, jalapenos, bananas, grapefruit, pickles, and would do back flips for strawberries.
__
He attracts admirers wherever we go… Over the years I've had neighbors from the age of 4 to 84 knock on my door(s) to ask, "Can Buddy come out and play?" After meeting him, business associates on phone calls from around the country have inquired about him before asking about me or getting to the reason for the call. He has traveled with me without a whiff of anxiety regardless of the situation, mode, or locale. He's accumulated more air miles than most people and would sit, holding up the security line while I got checked, until I called him to walk thru the scanner by himself. After getting a "pat-down" from TSA because his collar invariably set off the sensors, he would calmly climb back into his carry-on bag for the flight. If "Food" was his favorite word, then "Go" was a close second. Go…any where, any way, any time…it was all good.
__
I'm sure you're wondering about the contraption that he's wearing in the second pic. Two years ago (when he was only 15, young, and stupid), he was romping and rough-housing with a young dachshund that outweighed him. At full speed, the dog plowed into him like the classic T-bone car wreck. He rolled over a couple of times, twisted his spine, and in the process, damaged the nerves going into his rear legs. The damage was not evident at first but over the next year, one leg became progressively weaker until I knew that he would need a cart to continue getting around. Before I could get the cart made, the other leg suddenly went limp and overnight he was paraplegic. He wanted (and still wants) to keep going, and I will do everything in my power to help him do just that. The flag on his cart is necessary because we are now retired, full-time RVer's, there are plenty of large vehicles in RV parks, and he remains car-stupid after all these years.
__
At about the equivalent of an 80 yr old, the Old Man is on the wane. The eyes and ears are going, but the nose still works. He's got some arthritis (but don't we all) in his front legs. But it's that big ol' heart of his that will be his downfall. During a checkup about 6 months after his accident, he was diagnosed with a heart murmur that is inexorably leading to congestive heart failure. He sleeps a lot nowadays, waking only to eat (go figure!) or relieve himself. Yet, when I ask, "Want to Go for a Buddy Walk?", he perks up and the front legs start moving as soon as the back legs are picked up. He has the outdoor cart (seen in the pic) and I've also made him an indoor cart that takes up less space in the RV. Either one serves his purposes and, although he becomes fatigued more and more readily, he seems reluctant to get un-hitched and be confined to the bed.
__
Down to our souls, we all believe that ours is the best-est, most wonderful animal to ever walk this earth. Li'l Buddy is all that and more; his legacy is that he is more than I deserve. Over these many years, miles, hardships, and adventures, he has always been there. There next to me. There for me. Calm, unquestioning, and, unconditional. That's more than we can say about too many of our fellow human travelers. I believe that's why we share our lives and love with these critters.
__
November 2010 update: The Old Man is fading fast. I've added a pic of him with the tongue that now protrudes when he's relaxed/asleep. It doesn't get much more precious than that. He no longer has the strength to pull his outside cart and is barely able to move in his inside cart. He still uses the inside cart to stand and eat (duh!) but doesn't move far from the food bowl. His favorite place to sleep is in my lap and, although this means that I get nothing done these days, it's an honor to be able to comfort one who has given so much. He'll be leaving me soon and my sorrow, as deep as it is watching his decline, will only intensify with his passing.