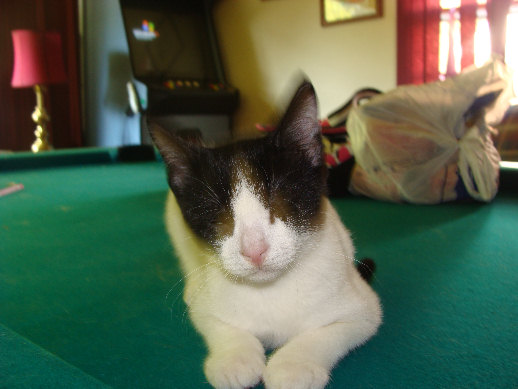 From commentor JSF:
This is Batman. His name was Glenn when we accidentally adopted him. Me and the boy were out shopping for an anniversary gift for mom for #22. We were looking for some copper jewelry because the 22nd anniversary gift is copper. I took my broken necklace with me so I could get it fixed since I'd be at a jewelry store anyway. After five jewelry stores, we hadn't found anything we liked but the fifth place fixed jewelry so we made that transaction. They needed 20 minutes so we walked up to another store's jewelry counter and didn't find anything there we wanted to buy. On the way back, we passed a Petco and had ten minutes to kill. We went in and looked at the fish, the snakes, the turtles and the lizards. On the way out, the boy saw the cats.
__
Petco has a section devoted to local rescues from the animal shelter. The boy played with the cats for a few minutes and then insisted we get the one named Glenn. Apparently, the cat we have at home belongs to the girl and so the boy wanted his own, if for no other reason than to tell the girl she couldn't play with his cat. 75 dollars later, we were taking Batman home. No anniversary gift, just Batman. He is acclimating well to the dog and the cat after two days. The boy is supposed to feed him but first thing the next morning, Batman was on our bed waking us up to feed him.
__
Another failed anniversary.