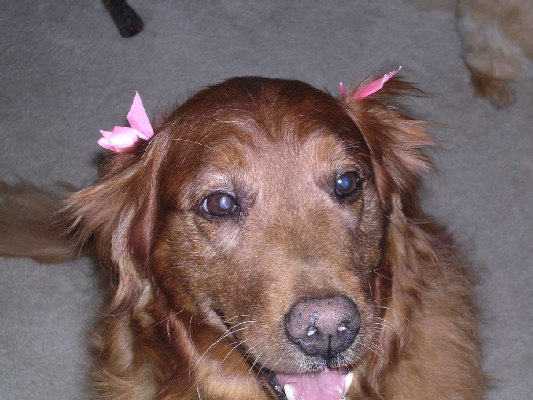 From commentor Dog Is My Copilot:
This is a memorial, sadly… RIP, Brandy…
__
In December 2006, Golden Bond Rescue contacted me to do a dog evaluation in Puyallup, Washington. The dog's name was Brandy. After the evaluation was done, GB asked if my husband and I could foster her. My husband (the softy) said that if she came into the household, she'd be a permanent part of the family. Well… She came… and she stayed.
__
From the very start, we could see that Brandy was going to "need a little work." It was obvious that she had a mind of her own and didn't regard most humans as "master." She quickly earned the nick-name "PITA." (Yes, that's an acronym!) Brandy was somewhat like a bull in a china shop and claimed the role of lead dog in our small pack. Without much behavioral training, she was a handful.
__
We worked with Brandy over the next two years to instill some manners and she eventually came to respect us "humans" but there was always that "me first" attitude. She, like many other Goldens, wanted attention and a paw in the lap was her first approach. Snapping at treats (and most food in general)… one had to be careful about handing her tasty morsels. Breaking her from that "I'll go through the door first" habit was difficult. In as much work as she was, she still worked her way into our hearts and home.
__
One of our fondest memories of Brandy is the day she came home from the groomer with pink bows in her ears. Knowing Brandy's demeanor and temperament, pink bows just weren't fitting for a tom-boy. She looked up at us with a happy "grin" as if to say "look at me! Aren't I cute?" We laughed profusely that day and likely we will in the future. The attached picture pretty much tells the story.
__
We have three other dogs, a Golden named Buddy who I adopted from Golden Bond, the Rat Terrier/Chihuahua we refer to as the "little man," who we adopted from Puyallup animal rescue just this year, and a little Pomeranian named Millie. Millie was rescued by Old Dog Haven and "found us" on PetFinder.com. Brandy has been a huge help to little Millie, who was terrified of human contact. You see, Millie was likely a puppy mill dog and Brandy served as Millie's mentor and guide through the human world. For that we are grateful. Millie has blossomed into a lovable little creature with Brandy's help.
__
It is with great regret that we said our final good-bye to Brandy. Greeting my husband at the door, she paused for one more petting and one more hug before collapsing on the floor. It was as if she waited to say good bye as well. We will miss Brandy, our little "PITA" dog. Things just won't be the same without her.
__
Here's to all that take the time to rescue an unwanted and unloved animal.