Our local newspaper is a Gannett paper and, as much as I worry about smaller newspapers disappearing, I won't be that sorry to see it go: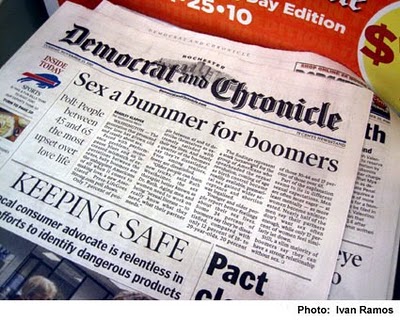 North Korea attacks the South … a tense run-up to Congress's lame-duck session … a cliffhanger local Congressional election on the verge of resolution … implications for special session of State Legislature … controversy over airport body scanners … there's a scout troop short a child, Krushchev's due at Idlewild — and here's November 23rd's top headline in what passes for a newspaper in Rochester.
Maybe I just don't understand media very well, but I just don't see how some bs story that is probably already on every bs pseudo-news website in the world can really drive readership.
By chance, last week, while driving to work, I listened to a local reporter talk on the radio about a slow response to a shooting, the new police chief, speculation about who the new mayor will be etc., all in mind-numbing detail…and it was mesmerizing, like listening to an episode of the "The Wire", even though I understood only half of it. That has to be more interesting to a lot of people than reading about boomers' sex lives (right?).