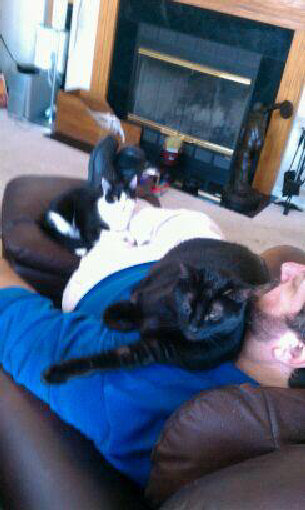 From commentor Mawodo:
The gang and I watching the Oregon – Stanford game from a few weeks back.
__
The 20 pounder that likes to sit on my shoulder is Calista. She was taken in by our vet when a family had to move and couldn't keep her any more. She's had an unfortunate problem with digestion over the years. When we went to get her checked out, she was vet certified as having the 'worst smelling cat crap ever'. It was a bit embarrassing when the vet asked where we got her and we had to remind him that he was the culprit. In all fairness, you want a vet soft hearted enough to take in patients and redistribute them, and he did give us a discount on the food that we used to get her healthy again.
__
The little terror that assumes your feet are pillows, and he is well within his rights to put his pillows where he darn well pleases, is Cincinnatus. We adopted him from the local pound earlier this year. We skipped the kitten section, and went to the slightly older cats. We knew we'd found the right one when he came into the meet-and-greet room and hopped up on my wife and began to play. We knew he was here to stay when he ate the cardboard carrier we used to bring him home. I don't mean chew a little hole in the corner; I mean Cortez-burning-the-ships-on-the-coast-of-Santa-Cruz ATE the box. Since then he's eaten angel food cake ( no idea how he got the plastic cover off), dried beans (they got moved to higher cupboard), the frosting from my daughters cupcake (claws sharp enough to cut the cellophane cleanly), cooked beans (don't ask), the crunch part of a loaf of Dutch Crunch (new bread box), soft pretzels (mustard will cover the little bite marks), and a silver sugar spoon (we think).
__
I could forgive the little guy all that. Mostly it just made us more careful of how we store things. However, in spite of his name, the little bugger is a Dodgers fan. He's been known to voice his support when they play on TV. For one memorable game in early September, he sat on the back of the chair and held my head pointed at the screen, Clockwork Orange style. Joke's on him: the Giant's hit four home runs late to take the game 5-4. He was so mad he ate a spoon (we think).
__
I tell my wife that if he starts rooting for the Beavers, he's out. She just laughs at me.