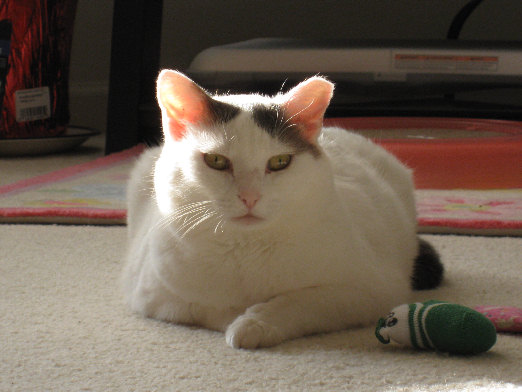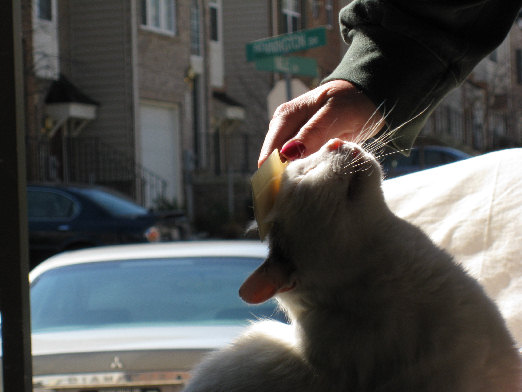 From commentor Khead:
Sweet Pea was a stray kitty that roamed our neighborhood for a number of years (3? 4?) after we moved in. When our beloved pet cat Casey at the time started to fade in health (he was 20!) we noticed that Sweet Pea was spending a lot of time near our townhouse. We started feeding her and building a relationship by letting her come into our front door for some time when we did feed her. My wife also bought her a little house where she lived on our front porch/stoop for the winter. When our original kitty could not go up and down the steps any longer we brought Sweet Pea in to live on the lower floor of our townhouse. After Casey passed away in July '09 Sweet Pea had the run of the house.
__
She has become a spoiled rotten member of our family. Sleeps with us every night. We looked through some pics to send and although we have a bunch of her being spoiled in sleeping spots, we decided on the two we sent instead. The close up of her on the floor shows her stub ear which our vet thinks shows she was feral. The vet thinks someone fixed her, clipped her ear, and then put her back out. I have a hard time believing she was feral given how much love she shows us, but the only other explanation is that the tip of her ear froze while she was living outside.
__
The pic of her in the doorway getting combed was the first time we tried to groom her. She had let us feed and pet her for a bit and we decided to see if she would let us comb her. We have moved on from combing to belly rubs….