Mr. Kitten Mittens and me.1
Late last Sunday night, I saw a link on Facebook asking if anyone in the area (SoCal) could save a dog that was scheduled to be sent to the Great Farm in the Sky on Monday. He looked like a cocker spaniel and since Nate Dogg is a cocker spaniel, I figured it would be downright un-Christmas-like un-Holiday Season-like of me not to snag him. I haven't fostered a dog in ages, and my dog is an old man who is content to lie around, fart, and feast on treats all day. I'm not sure my tired old ass can handle the energy of a younger dog. Still, I figured I could at least hang on to him for a few weeks; fatten him up; get his cherry eye removed (a common condition for cocker spaniels); and shine him up like a new penny, so the odds of him finding a permanent home would be better.

So, on Monday afternoon, I popped down to the shelter, had a brief chat with the dog, decided he'd do, paid for him to be neutered, and stayed his imminent execution.

Five days and one junk-removal surgery later, Foster the Dog aka Mr. Kitten Mittens and I were posing with Santy Clause: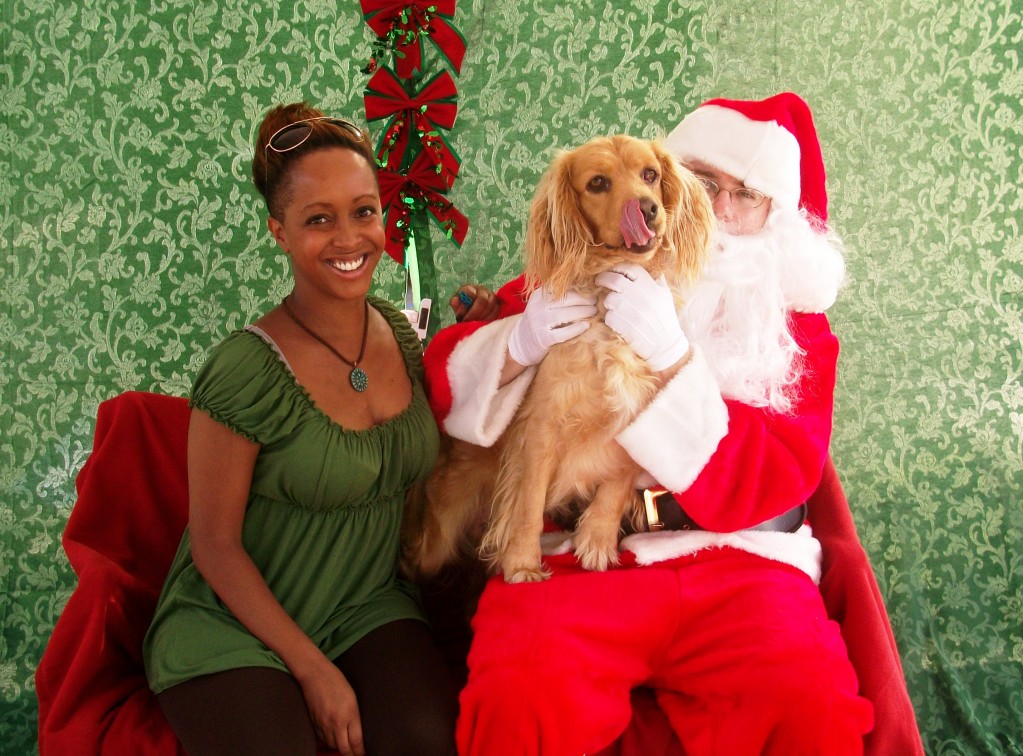 Every Saturday in December, OC Animal Care is offering free pictures with Santa. Click here for more info, and for the love of humanity, if you're planning on getting a dog for yourself or for a loved one, ADOPT! ADOPT! ADOPT! There are so many adorable dogs that need homes. There are so many adorable dogs — like Mr. Kitten Mittens who is currently fast asleep in his crate after having been completely ignored by Nate Dogg — that are being killed because shelters and rescue groups can't find good homes for them. Seriously. Don't buy a dog. Don't make me come over there. I will cut you. And then I'll sing that "In the Arms of the Angels" song until you lose your mind.
If you or anyone you know is in the LA area and is interested adopting this kick ass dog, shoot me an email at
[email protected]
.
1 I think Mr. Kitten Mittens is a hilarious name, but it's a mouthful. I thought about naming him Agent Jack Bauer the Cat — "Jack" for short. Right now, I'm calling him Oliver/Ollie. I may tack an "Ali" on the end: "Oliver 'Ollie' Ali." I know! I'm deranged. Do you have any suggestions for a name?

[cross-posted here at ABLC]