Reader Greg sends this winner in: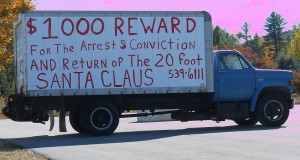 And then you have God Wars going on in Ft. Worth:
Stand on a corner in this city and you might get a case of theological whiplash.

A public bus rolls by with an atheist message on its side: "Millions of people are good without God." Seconds later, a van follows bearing a riposte: "I still love you. — God," with another line that says, "2.1 billion Christians are good with God."

A clash of beliefs has rattled this city ever since atheists bought ad space on four city buses to reach out to nonbelievers who might feel isolated during the Christmas season. After all, Fort Worth is a place where residents commonly ask people they have just met where they worship and many encounters end with, "Have a blessed day."
People crack me up.