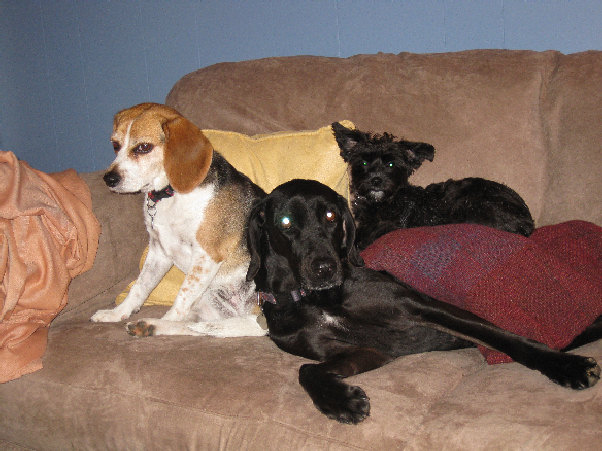 From commentor TK:
The big, sad-eyed black one is Ceili (KAY-lee), a mix of Irish Setter and Pointer. When my wife was in vet school, she worked at a genetics breeding colony at the university lab. When she was born, she lacked the genetic deficiency that they were seeking to cure, so they adopted her out. As soon as I saw her it was over with. She's almost 10 now, and still an absolutely wonderful, sweet-natured girl who wants nothing more in the world than to be next to you. And swimming. Lord, does she love to swim. She is the best dog I've ever owned.
__
The beagle is technically named Audrey, but she never answers to that. In fact, we pretty much just call her Beagle. She's only got three legs – when she was six months old she was hit by a car, and her family brought her to my wife's hospital. When confronted with the cost of amputation, the owner said, "Eh, I got a kid in college, might as well put her down." My wife instead had him sign her over to the hospital, and brought her home "just to foster her for a few days." Yeah, that was three years ago. Audrey is scared crapless of thunderstorms, sleeps burrowed under blankets at the foot of the bed, and periodically bays/howls at absolutely nothing. But she's completely adorable and despite my initial misgivings about taking her in, I love her.
__
Finally, we come to Louise, aka Weezer, the tiny black dog sitting on top of Ceili. Weighing in at a whopping 9.5 pounds, she is roughly 100 pounds worth of trouble. She and around 50 other dogs were being transported from a puppy mill to local pet stores when the truck broke down. Cops found 50 dogs inside in cages with no food or water in the back of the truck. Needless to say, the dogs were confiscated and distributed to various veterinary clinics around the area, one being my wife's. When my wife asked me if we would foster one of the dogs, I told her "absolutely not." A couple days later I went on a camping trip, and then came home to find Louise in my kitchen. My wife swore she was only temporary, but I'm not one of those people who can let an animal go after a couple of months. Especially not Louise. She's so disgustingly adorable it's borderline criminal. She loves to kiss your face, snuggle in the crook of your elbow, and belly rubs earn you a friend for life. She adores her big sisters and follows them everywhere, refuses to sleep alone and will aggressively snuggle up to one of them. Of course, she's also massively destructive – she's only a year old, but she's destroyed books, doorframes, chair legs, dog beds, you name it. But damn, she's cute.