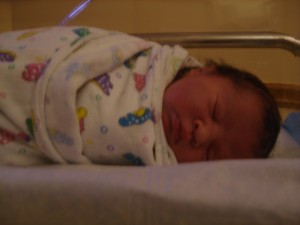 The background on Suzanne's baby:
A lot of fellow Juicers wanted me to make sure I let a front-pager know when I finally had my baby, because they're all very sweet and lovely people. Even matoko_chan. ;)
Anyway, Mia Rosalia was born perfect and healthy yesterday evening at 5:13 pm, and weighed 7 pounds, 10 ounces, and is 20 inches long. She has a full head of thick, dark brown hair, and looks very slightly like an Ewok. I am doing just fine—no seizures (I'm epileptic), and, most importantly, THE EPIDURAL WORKED. Damn skippy, that is a fabulous invention. FSM smiles upon the soul who came up with that idea.
In the photo, which was taken last night, you can see that her face is a bit bruised from being born so fast… most of that's already faded. We're going home tomorrow morning. Please convey my gratitude to everyone for their kindness and concern and love, and happy holidays to you and everyone. :)
It's good to have some new blood around here, since Bean and her husband-to-be SamKitten have abandoned us.