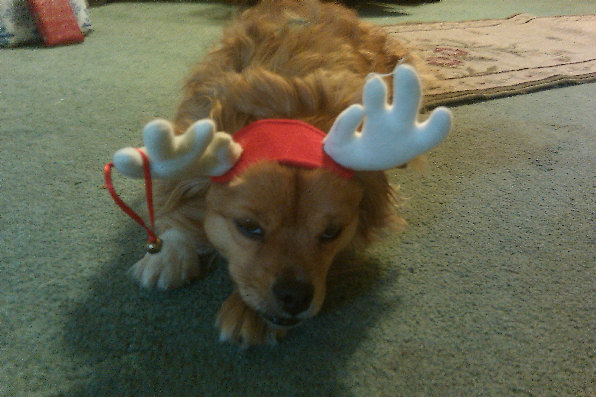 From commentor Shadow's Mom, formerly KDP:
Your post of the kitteh wearing antlers prompted me to send you this picture of Shadow today. He doesn't like his antlers either, particularly when the little bell dangles and swings. He was very patient while I took his picture.
__
It's been 2 years tomorrow since Shadow joined our household. He was 15 months old when we got him.
__
Shadow had been given to my partner's employer, who lives at the site of his tow business. Although Shadow was loved, when the boss went back to Lebanon to see his mother at Christmas 2008, he left Shadow in the care of his son. The son, a somewhat spoiled and irresponsible young man, would get my partner to catch the dog and so that the son could lock the dog in the garage while he took off for 3-4 days at a time. I don't know whether he left Shadow with adequate food and water during those days; however, when he came to us he weighed in at just under 13 pounds. He is now a robust, but healthy, 15 pounds. Steve, my partner, is too soft-hearted to keep watching an animal be treated with such a lack of compassion, and when Shadow stopped coming to him when he called, he had had enough. A day or so before Christmas, he asked me if I would mind if he brought the dog home so that he could get proper care during the boss's absence. I didn't mind, my biggest concern being whether the dog was housebroken. On Christmas night, he stopped by during his work shift with the dog in his truck. Shadow has been with us ever since.
__
On the boss's return, I kept asking Steve when he wanted us to bring the dog home. About a week later, he came home one day and told me the dog was ours. I believe he told his boss that I had fallen in love with the dog and did not want to send him back, but it was actually Steve who could not bear to give him up. Shadow was most devoted to me until this past summer when I had to travel for work every other week. I think he's decided that I'm not reliable and he's now directed his adoration to Steve.
__
Shadow has been a great joy in our household. He's sweet-natured and the children at the local playground love him calling his name and coming over to play when I walk him there. He has his own set of canine buddies in the neighborhood, and the only remaining issues in his behavior are a bit of separation anxiety and a tendency to exhibit aggressive barking (fear-based, I think) towards a very few dogs that we encouter when he is on the leash. Off leash, though, he is mild-mannered, and everybody's buddy. The separation anxiety was not a problem until he figured out how to get up onto my work desk and use my laser printer as a perch from which to watch for us out the window. I'm very glad it's winter in California now since this means he can travel with me most of the time and I can leave him in my vehicle without having to worry about either heat or cold.