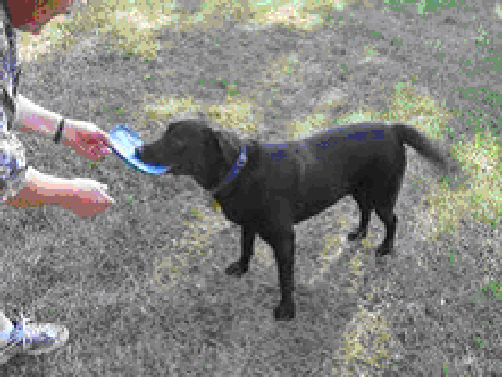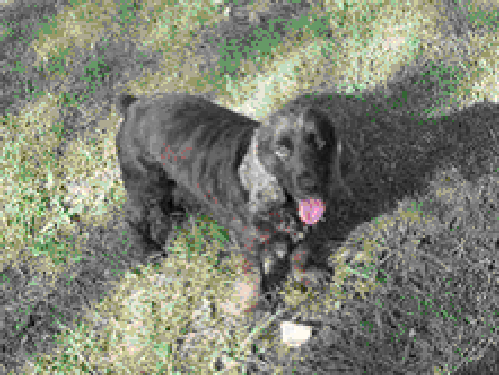 From commentor Jude B:
Meet Mac. He is a now four year old black Lab. He is our scared-y dog. He is frightened by noises, both either loud or just unexpected like a dropped paper bag. He is also frightened by new things: a new pillow on the bed, a new desk in the front room. Overhead fans and lights frighten him also. He is a rescue dog from the shelter one county over. I met him out-of-doors at the shelter where he is the closest to calm, as long as the number of new people is far exceeded by his own people and there
are no loud or unexpected noises. I could see that the car ride home from the shelter bothered him tremendously but was still taken aback by how very afraid he was of most of life. When he joined our family a year ago, he was very, very frightened by all of these things and would not drink from anything but an outdoor water puddle or stream for three weeks and would not eat any food for two days. With love, patience, encouragement and generic Prozac, he has come a long way. He even let me bathe him indoors two weeks ago. He lives to play fetch. He has bed and sofa privileges and has learned from me that the only reasonable response to a nighttime thunder storms is to burrow under the blankets and cuddle.
__
The little cocker is Bella, also a rescue dog. She spent six years as a mom-dog in a puppy mill, popping out litter after litter, never getting much chance at a life like she has now. She loves to hunt and explore on our new small farm in her huge fenced backyard. When she is on the trail of something, nothing, not even meal time, will get her to come inside. She is also an escape artist of unparalelled accomplishment. She escaped from our new backyard when we moved to the farm six times in the first three weeks, one time returning after a dip in the sewage lagoon and once after rolling in the neighbor's horse pasture. After each escape, my husband would walk the fence to find the latest escape hole and then he would patch it closed. Once the fence had been rendered impenetrable, she discovered the area under the back porch, tore the lattice work from the crawl space and got stuck under the porch, not being able to find the way back out. My husband had to cut an eight by eleven inch square in the porch floor in order to free her. She got four baths in five days, two of them in under twelve hours, because of repeat trips to the under porch area. The baths were the result of my husband muttering something about "rat feces" after her first trip under the porch. You can't hear that phrase without plopping the dog into the shower and cleaning her. And, we thought that after each time, we had patched up the latest place she had clawed a way in. It was not until my husband bought thick plywood, cut it to size and nailed it all around the bottom of the porch that her under porch trips stopped. She also has bed and comfy chair privileges. When we come home she greets my husband but she will not leave the front door until I come in. It's me she wants to welcome home and I love having her greet me.