For reasons that remain a mystery (masochism, maybe), I continue to check in on Hot Air to watch Captain Ed tap dance on his former integrity, and came across this gem:
There are two problems here, one short-term and one long-term. The national debt will rise above the limit increased last year by Democrats at the end of their spending spree in short order, and the question of defaulting on debt service becomes real and could create a lot of economic damage.
Yeah. It was the Democratic spending spree that rocketed up the national debt: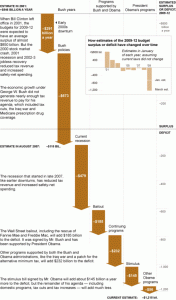 I'm sure everyone recalls how Hot Air was at the front of trying to make sure the Bush tax cuts were ended so that the national debt could be addressed. And remember how the Hot Air staff demanded that the wars in Afghanistan and Iraq be paid for? LOL.