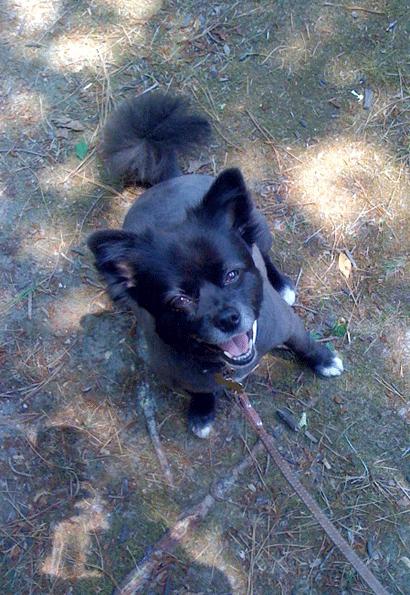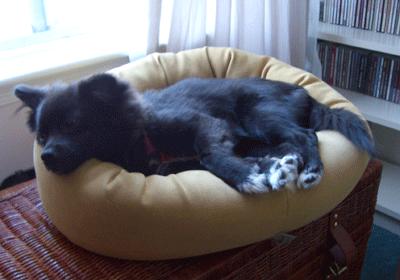 From commentor Rob!:
Attached are pics of our dog Johnny, who is a Pomeranian/American Eskimo mix.
__
She just turned five a few months ago, and we got her when she was 4 months from an older couple who adopted her and her sister and came to the conclusion that two dogs like this were too wild. We got example after example of this during Johnny's first few months with us–she chewed on every conceivable corner there was available, chased the cat, and barked at every other human being in existence.
__
She's an unfathomably smart dog, and knows how to manipulate a situation–when she sees I'm about to go out, she gives me her most pathetic look and rolls over so I can rub her belly, knowing I can't turn the offer down (she is correct). Also, if she's bored and my girlfriend and I are both busy, she will quietly disappear into the bedroom and return with a sock or pair of underwear, showing it to us knowing it will get the proper response.
__
As is the case with many smart dogs, she's a handful. She seems to hate every human being on the planet except us and my parents, whom she adores. But everyone else is a suspect, a potential predator, or at the very least worthy of barking at. She would bark non-stop at perceived threats outside if we let her. We've tried over and over to control this, and have had only marginal success.
__
And that disdain for everyone extends to other animals–we have dreams of owning lots of dogs, cats, what have you, but we both realize that's probably not realistic while we have Johnny. She wants to be an only child, dammit.
__
One of the things I am most thankful for is the realization that Johnny had not ended up with us, she might not be here at all. The older couple who first got her were determined to give her up, and I shudder when I think where she might have landed. The average person might have seen how much work she is and dropped her at some shelter, where her inherent fearfulness and aggressiveness would probably have scared off any potential parents.
__
We named her after Johnny Cash, because when we first got her she was nearly all black. Over time more and more eskimo white is popping out, including some patches on her back–we call them her angel wings.