The British Medical Journal has started the process of completely destroying Andrew Wakefield's Lancet paper linking autism to the MMR vaccine. Lancet finally withdrew this paper last February, 12 years after it was published, and Wakefield and his co-author had their licenses to practice medicine revoked. Journalist Brian Deer's first article in the BMJ series shows the discrepancies between Wakefield's "research" and the actual case histories of the participants in his study, noting that "No case was free of misreporting or alteration."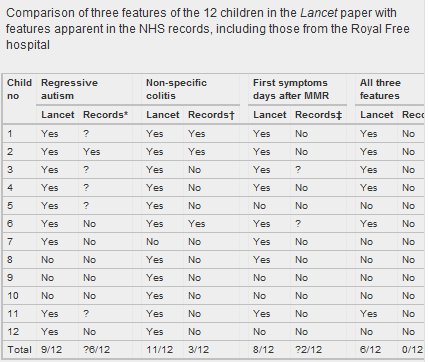 Wakefield was employed by a lawyer who wanted to sue vaccine makers and was paid a total of £435 643, plus expenses. He "discovered" the autism-MMR link after being put on the payroll, but before doing any research at all.
The damage done by this fraud is immense, and hopefully the BMJ series will help stamp out the zombie lie that vaccines cause autism, but I'm afraid that it's taken on a life of its own and lives on in the world of conspiracy. I'm casually acquainted with the father of a young boy with autism, and he's woven a whole story around his child's illness that puts the blame on his child's reaction to a vaccination. I've heard his story a couple of times, and it is a riveting tale. I wonder if he'd even have considered that connection if it weren't for Wakefield's fradulent "research", and I wonder how many parents have listened to his story and decided against vaccinating their children.
(via)