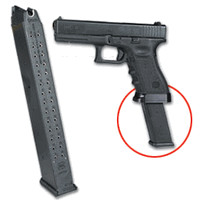 One of the talking points about the Tucson shooting is that the gun used is "just the same as the one police use", and that's true – the Glock 9mm pistol is a common police sidearm. But, police carry it with a 15 shot clip, not the 30+ shot extended magazine pictured here. By the definition of the assault weapon ban, it's an assault gun with that extended mag.
In Saturday's shooting, it was only because of the heroic actions of Patricia Maisch, who grabbed the extended magazine from the shooter's hand, and the lucky break that his next magazine's spring was defective, that the shooter was limited to 31 shots.
In these kinds of mass shootings, the shooter is most vulnerable when he's reloading. It's simple logic that the more times he has to reload, the better chance bystanders have to tackle him, which is really the only defense that unarmed bystanders have. (And the notion that armed civilian bystanders could have gotten off a clean shot in the chaos of humanity surrounding this shooting is a fantasy. )
Since Arizona is one of a few states where extended magazines are legal, the killer was able to walk into a gun store and purchase an extended magazine along with his Glock pistol. It's clear that the easily availability of extended magazines contributed to the loss of life on Saturday.
I've got nothing against guns. I grew up around them, and I occasionally shoot semi-automatic weapons with a friend at the range. And I also understand that a determined killer can probably get his or her hands on an assault weapon because there are many of them floating around. But the kind of wacko who plans mass murder often isn't a high-functioning member of society, and throwing up a few roadblocks in front of him can't hurt, because there's really no use for an extended magazine on a 9mm pistol other than killing more people in a shorter period of time.