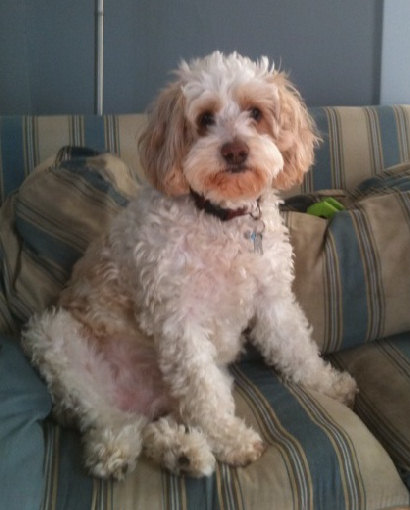 From commentor Gus:
I've decided that you need a counterbalance to all the heartwarming stories of good rescued pets. This is Sherman, our rescued cockapoo. We were looking for a dog to assuage our guilt at leaving our other dog home alone (or with just the cat who has no interest in him). We saw him on Pet Rescue, and he sounded adorable. They mentioned how he loved to give kisses and how he loved to play with socks.
__
We went to his foster home and while he was immediately friendly with my wife, he barked at me and backed off when I tried to make friends. When the foster father came in the room, though, he went up to him with tail wagging. The foster parents assured us that he initially acted the same way toward the foster father as he was acting toward me. He got along with our dog, so we decided to take him. As the fosters predicted he warmed up to me fairly quickly (after three days of barking and growling), and soon we were buddies.
__
Six years later, he's still a work in progress. He has proved to be very territorial. Our next-door neighbor used to bring his dog into our back yard to play with our other dog, but Sherman growls and barks ferociously when he does, so no more. He bit a friend once and has nipped at others shoes, which for a long time kept us from having company. The sock fetish that we initially thought was so cute borders on an obsession. He has ruined numerous pairs, and when the snow melted after the first winter we had him, we found the back yard littered with socks. We now make sure he doesn't bring anything in the yard when we let him out. We're also a little smarter about bringing people over, so he hasn't bitten or nipped at anyone in quite some time.
__
His separation anxiety, though, has never been completely cured, and we still come home to find the odd puddle on the floor. He is a champion counter troller, and we have found numerous empty bread bags, potato chip bags and even butter wrappers on the floor. His favorite snack is cat puke, and if our cat hacks up a hairball in the middle of the night, and he can't get to it he whines and paces until I wake up and clean up the mess. He chases our poor 14-year-old cat (the best cat in the world) no matter how we try to break him of it. He still knocks over the garbage if we don't put a weight on the top of the can. He was obviously as poorly socialized with dogs as with people, since when we come across other dogs on his walks he often growls and has nipped at a couple of them.
__
Last summer he came up lame in both back legs. Diagnosis was torn ACL in each leg. $4500 later he's doing much better.
__
Whew! What am I forgetting? Oh yeah, God, how I love that little guy! He's so sweet and loyal. Yes his list of issues is long, and after a long day at work, I'm not thrilled to clean up a pee puddle or pick up the strewn contents of our garbage can. But when I come home his tail wags so hard his whole body is moving. As advertised he dispenses kisses constantly. He loves to cuddle, and when you pet him right he absolutely moans with pleasure. My wife recently asked me if I would adopt him again, knowing all we know about his neuroses and issues. I didn't hesitate to reply yes.
__
So to all of you thinking of adopting, I say choose carefully, be prepared for the worst, and don't adopt if you're not willing to put in a shitload of work and a lot of love.