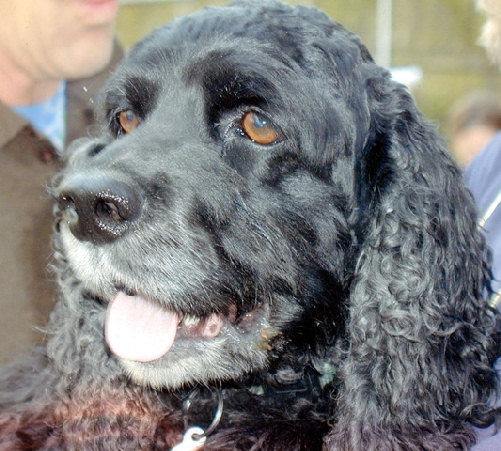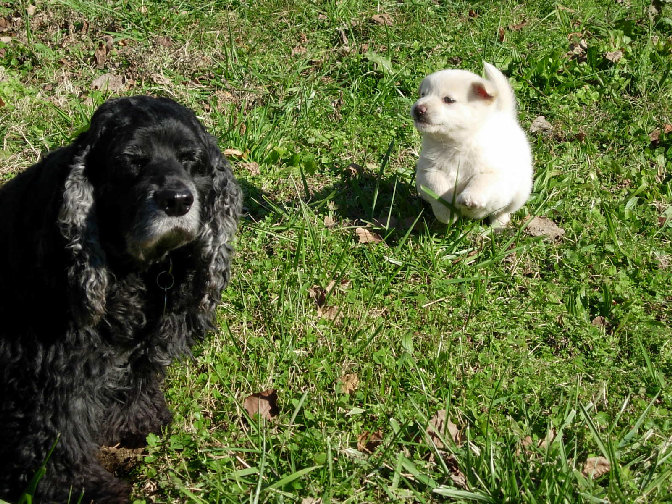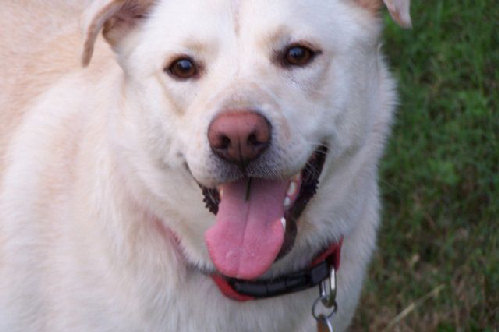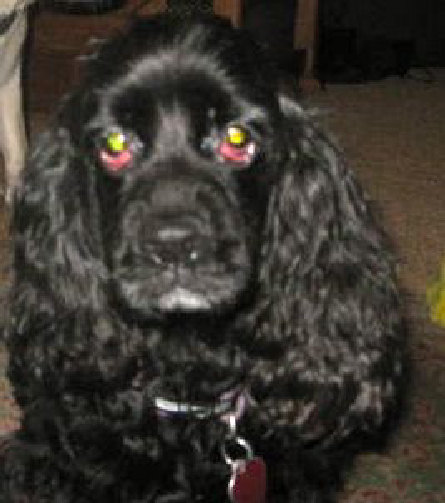 From commentor Stuckinred:
My wife and I started dating in the mid 90s and in 1996 she went to her home in Virginia to see about getting one of the cocker spaniels from the line her family had bred for many years. She came back with this funny looking little black fur-ball and I thought, "What in the hell is this, some kind of little frou-frou poodle"? She named him Raven and it didn't take long for the scamp to win me over. He was the happiest, most playful little critter I had ever seen. Every dog I had up to then had been a ball or stick chaser and he was no exception. By the time I went up to "meet the family" he was a full blown retrieving maniac. My future mother-in-law, who had his litter-mate, Smokey, had never seen a cocker that would chase down a tennis ball thrown 50 yards and catch it on one hop! Raven was amazing and quickly became famous around town as I took him nearly everywhere I went. He loved people, kids, and most other dogs. It was interesting to learn what bad reputation cockers had as biters. Many people would ask if it was safe for them or their kids to pet him as he wiggled away. There isn't time to capture the many great adventures we had with Raven. Eventually his name somehow morphed into Boo-Boo and one day a lady asked us his name. We answered, "well, his name is Raven, we call him Boo-Boo but he will answer to Stinky"! She replied, "My vet told me that if a dog had more than one name he was truly loved". I couldn't argue.
__
Life sped by and we often talked about getting Raven a pal to hang with. My job had me commuting an hour a day each way so we had a neighborhood kid come in and play with him after school. Suddenly my work situation changed and I began to work from home so we thought less of the need to get him a buddy. Then, seven years ago this week, on our daily walk to the bakery, we came out with our coffee and saw a tiny 5 lb ball of white fur sitting next to Raven outside the door. We looked all around and saw no evidence of where he had come from so I put him in my pocket and we took him home.
__
It took a few days to figure out a name for the new pup. Osa sounded good because he looked like a little bear but, somehow, it didn't stick. Finally we hit on Bohdisattva, a fine name for a flash of white light like he was. We decided to crate train the Bohdi loosely following the "Monks of New Skete" regimen that included taking the little guy out every two hours to let him become accustomed to the crate as his home and going outside to take care of bidness. Most of the time Raven would just go out the doggie door so there was little occasion to observe him but that changed with the crate training. As I was taking them out I started to notice that Raven was struggling when he pooped… I took Raven in for an exam and the vet said, "I'm not sure how you picked this up but Raven has an anal carcinoma, you have caught it early and it is treatable".
__
This led us into a world that you have to experience to really understand, no books can do it justice. My wife and I studied our options and, since we had jobs and no kids, decided to go for the whole ball of wax. That included a two month stay at Auburn's Vet Med School for surgery, chemo and radiation. After the first two weeks we were allowed to pick him up on Friday afternoon and had to have him back on Sunday. During the week we would talk with a Vet student who was assigned to him on a daily basis for reports on his progress. We were pretty unprepared for the toll that the various procedures would have on him. He lost a great deal of weight and was so weak when we would get him that he was like a little rag doll.
__
I could go into great detail about the roller-coaster we rode with Raven's fight but I think I'll tell just one story. We learned quickly that there was a limit to the effectiveness of pain meds for dogs and we reached it quite quickly in his post-treatment stage. After hounding the vet for something to help him we finally found some tranquilizers that allowed him to get some rest. We had planned a weekend party and thought that the commotion would be too much for him so we gave him a pill and put him upstairs. Somehow someone went to up visit him and he ran down the stairs into the fray. He was so happy to see people and his little stub just wiggled and wiggled as he jumped from person to person to get some lovin! It was then that we realized part of what was brining him down was how bummed out and worried we were. He really turned the corner that day and his condition improved day-by-day. It's common to talk about people and critters fighting the good fight and Raven fought one of the best. He survived for two and a half years after the treatment and, if we figure one dog year is seven people years, he was quite the success. We relied on our vet to advise us when it was time and, as it had to, the day came when we had to let him go. We sat on the floor with him and held him as he slipped and, while it still hurts today, we know that we did the second best thing we could do for a dog that day. I made a monument for him from a wheel barrow turned up with a little shelf in it and we lit a Mexican votive candle for him every day for a year. What a pup he was.
__
You often hear of dogs who lose a partner dog pining away in sadness but we never saw that in the Bohdi. He took his place as the only dog and seemed happy as a clam with the attention and the sole ownership of the ball. A couple of years after we lost Raven I somehow decided to call our vet to ask about reputable cocker breeders in the area. The response I got was "oh, would you come out and look at this little girl we have, someone dumped her in a box on our doorstep in the middle of the night and she needs a home. My wife and I talked it over and said, "we need to decide before we go anywhere near this what reason we might NOT take her". The only thing we could come up with was if the Bohdi didn't cotton to her so off we went. We arrived at our vet and, as luck would have it, they brought this beat up but beautiful little black cocker right out of the same door that Raven had come to us when we put him down. Seeing her literally took me to my knees, my wife put her hand on my shoulder and said "is it too soon"? It was not.
__
We now were the proud owner of Lil Bit, my first female and, as the vet later said "more than we had bargained for". When we got her they had removed both her kidney stones and her tear ducts. This meant that she was in for a lifetime of cyclosporine drops in her eyes twice a day. About a month after we got her she woke us up screaming like she had been hit by a car. When we took her in they looked at the xrays they had done when they removed her kidney stones and thought there might be a bulging disc. This called for a month in the crate with limited movement. I went to the local habitat for humanity store and bought a baby stroller and modified it so I could push her on our two-mile morning walk. It was hilarious to watch people react when they looked in the stroller and saw this lopp-eared spaniel cruising along like she belonged there!
__
Lil Bit soon healed from that trauma and things went nicely for about six-months when I noticed one of her eyes was a bit cloudy. A visit to our local doggie opthamologist confirmed that she was developing a cataract and, being the easy mark that we are, we went ahead with the surgery. Did I mention that there was a small one developing in the other eye and that about a third of the cost of the procedure is in the anethstesia so it would have been cheaper to do them both at once? In the hope that the second one would not develop we followed the advice of the vet and did one. Everything went fine but on the four month checkup it was determined that the other one was advancing and another surgery was needed! Once again we went through all the complex recovery procedures but with a twist this time. Lil Bit's blood tests revealed that she had autoimmune hemolytic anemia. This condition is very dangerous and very common in, you guessed it, American Cocker Spaniels! We have now been treating this disease for two years and are hopeful that she will continue to survive. The incredible thing about Lil Bit is that none of this stuff seems to bother her in the least. She is a happy, beautiful girl with long ears and wants nothing other than a cookie and to sit in your lap, no matter who you are.
__
So that's a capsule, the cliff notes of my dog stories, They go back much further, to the mid 50s as a matter of fact. There was Ethalu the black lab, Ralph and Henry father and son shepherd collies and Mr Big the giant Marema mix that would have people standing in line just to ask about him. And finally there was my dad's dog Molly. She died about a year before he did and, as we prepared to bury my dad's ashes in the National Cemetery in Phoenix, my step mother hand me her urn and said "mix her ashes with his, it's what he wanted".