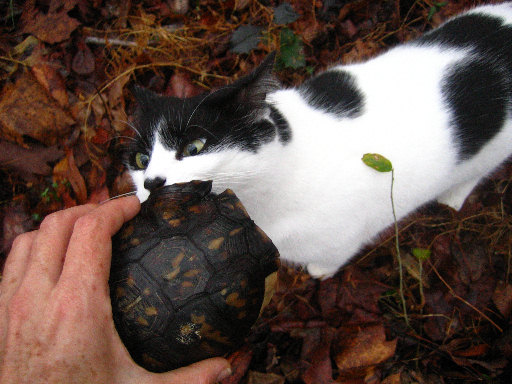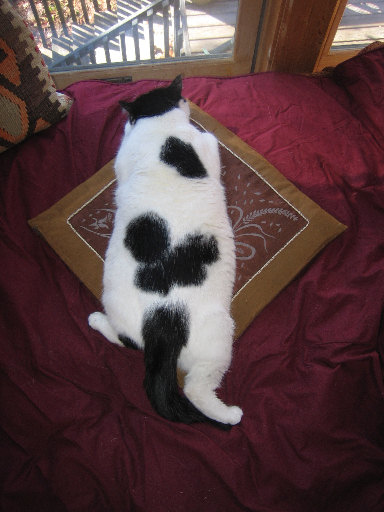 From commentor Maody:
She arrived in the middle of my flower garden during hot August, 2003 when I was 48.
__
At the time of Mao Mao's homecoming, our Ma was still alive, though moving slowly and with a walker. All day long this little tiny white and black kitty was yelling MAO MAO MAO hiding in the tall phlox and wouldn't let me near, but I could see she was injured and extremely skinny. It was a long painful 24 hours before, upon catching me making a cup of coffee at 6 a.m. staring out the screen door looking at the kitty, Ma reached her head around the corner and said, "Nan, you might wanna feed that kitty" which was code for 'yes, the kitty stays.' I was out the door in a nano-second with the key to my neighbors' to grab some dog kibble, mixed it with cream and right away, up onto the porch came Mao Mao. I could tell she wasn't feral, but a 'throw out' kitty.
__
As soon as she had eaten, she let me grab her up for lots of petting and inspecting. Saw that her back leg was smashed and prepared to take her to the vet without a carrier – oh well, it seemed the least of our worries. The vet's verdict was a broken small bone in her foot, a need for antibiotics, a worming and obligatory shots. By her teeth, Pat said she was probably 5 months old which surprised me because she looked to be about 2 months old in size. She would forever have an asterisk behind her name – Mao Mao *toaster kitty. My mother, who said she didn't cotton much to cats, fell in love with her and spoke to her in a throaty deep voice all the time. I'm convinced that Mao Mao made Ma happier in the last year of her life, often sleeping at the end of her bed and not once getting in the way of her walker or tripping her. Mao seems to have that wonderful sixth sense about how to deal with her people.
__
Why is Maody so special to me? My late husband and I had 2 cats in Paris, France. A nice sized mouse gray with white socks and tummy named Chupabeanie and his companion Barbie, black with white socks and long auburn curly Q hairs on her ears and tail and no voice. This was when I fell in love with kitties having grown up in a many dog home. When my husband was diagnosed with AIDS, Chupabeanie became his companion for the duration and his devotion to my hubby was phenomenal. Chupa died, I think of a broken heart, shortly after my husband's death. Barbie died of breast cancer.
__
When I finally got to move back to the U.S. I was hungry for a cat, but didn't have the money to care for one so my first find KiKi was adopted by a friend of mine. Still feeding feral cats in my neighborhood, there was always that longing for another cat of my own. After the death of our father and two sisters, I moved in with Ma to help her and then came Mao Mao.
__
She has seen me through many hard and sad times and always gives joy. Cats know, just like dogs know. I will forever be strangely grateful to the asshat mean people who threw her out so she could come here and be lavished with love and spoiled rotten.
__
Mao Mao loves to walk in woods with me down by the creek I call Running Brook that runs through my property. When I work in the garden she's always nearby. Her claim to fame is a serpentine hunting dance she and a gray fox perform out in the meadow during full moons hunting what we imagine to be mice. My neighbor thinks she's possessed because she gets along with fox. Maybe so. I know she is my familiar. When she leaves us, someone kindly scrape me off the floor – that's how much I love her.