I never like those New Yorker cartoons where it's the rich people sitting around looking old and stuffy with a caption like "I remember when you called me Big Poppa", but reader F sent me this one today and it seemed incredibly apropos.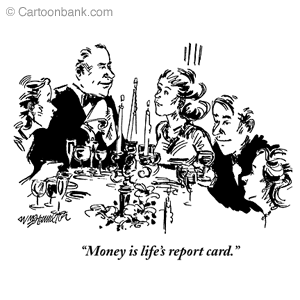 It's funny in theory, just as it was funny in that (hoax) Joaquin Phoenix video where he confronted a heckler with "I got a million dollars in my bank account, what have you got bitch?". But we are getting pretty fucking close to a world where it's acceptable to end arguments with "I have more money than you".
Here's Boston sports radio host John Dennis berating a listener via twitter.

And as I've said before, a lot of the conservative project is to convince people that this kind of reasoning is valid. It starts with Bell Curve-style IQ determines wealth and is genetic, so you if you're poor, you're dumb, then moves into high eggheads don't create jobs and deserve contempt, and reaches its apotheosis in Bobo's theory that the greatness of the composure class transcends intellect and only manifests itself as a sweet, sweet primal scent.
It all points in one direction: we owe our Galtian overlords everything, even if all those overlords do is run a crappy news channel or field calls from sports fans.