I think it is shameful no one has adopted this fellow yet (click to enlarge):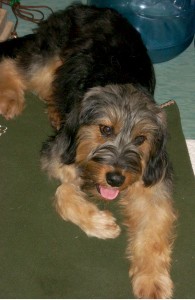 ***
My dad just sent over those pictures of Yogi, so I thought I would use some cute factor to calm everyone down a notch.
The backstory- last Monday, my dad was driving to town (we both live in a small town in the middle of nowhere- and no, I live down the street, not in their basement), and on his way he saw what looked like a dead dog lying almost on the road in the other lane. He couldn't stop because there were cars behind him and this was a curvy country road, but he did slow down and the dog didn't move. An hour or two later, after he had finished at the grocery, he was driving home, and the dog was still there, so he pulled over. He was just assuming the dog was dead and was trying to pull it away from the road in case it was someone's pet, because it would be horrible for someone to find their beloved pet mutilated on the side of the road, run over repeatedly, because no one gave enough of a shit to help your loved one out.
As he was reaching down to move the dog, the dog lifted his head and looked at my dad. Dad was mortified, because he had thought it was dead and was really upset he had just left it there for an hour or so. He ran to the car, got a blanket, covered him up and rushed off to our vet (Harry, an old family friend, who is pictured holding Yogi). The dog had some injuries to his hind quarters and will take some time to recover, but basically he was ok.
Dad says he is a super sweet dog, and I think you can tell that just by the pictures. His hair is very silky, and he is not a shedder, and he is very well behaved according to all the cute veterinary assistants, who have been showering him with affection since he got there. Apparently, he has his own cage at the vets, but they just let him wander around, and he has had no problems with any of the other visiting patients the last two weeks, so that would suggest an even temper. Soooo, if any of you are looking for a for life friend, Yogi needs a good home.
And for those of you keeping count, that is now the third dog who has thrown him/herself in front of one of the Cole men on an abandoned road and been rescued in the last 6 months. They must see us suckers coming a mile away.
BTW- I thought he should have been named Possum because he was playing dead, but the girls liked Yogi. I love the Marx brothers mustache he is rocking…