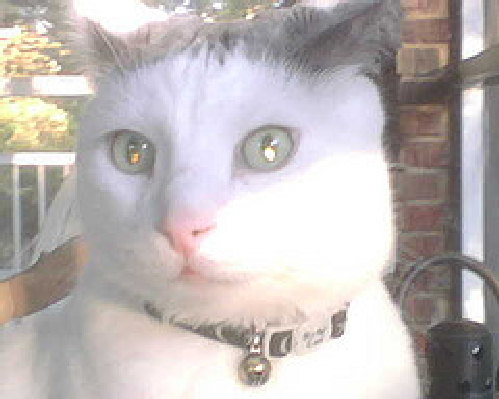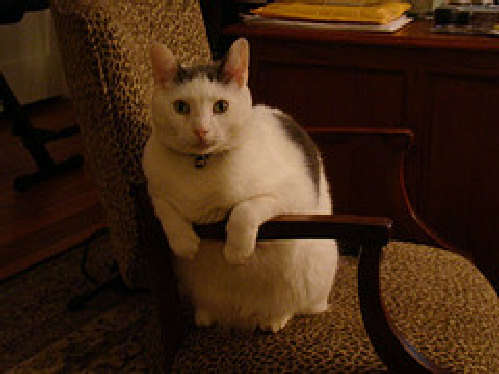 From commentor SIA:
This is our cat Angel, who came to us from the shelter with the unpleasant-sounding name Bacco. He had been "dropped off" by family #1 (f*ckers) and then adopted by an old lady who hadn't bargained on his testy temperament and need to roam. His record noted "Bacco knocks things over, paces the apartment, and tries to bite". I got him after Juliet's husband, Romeo, (yes, I know), was killed. However, they despised each other on sight and as far as I know still do! Juliet, though much, much smaller, still seems to be "the boss of him", though he pushes that envelope daily. He's adapted quite well considering, as we have a big old drafty house he can roam in, and I don't mind the grumpiness being somewhat of crabby myself. He scares the hell out of our dog Woofie, and is scared of our other dog Mickey, but they all seem to co-exist pretty well seeing as they all had some kind of trauma in their early lives.
__
I couldn't come up with a name that suited him, so I referred it to Mr. Screaming, who's good at that sort of thing. When the name "Angel" was decided on, my mother murmured, "I think it should be the opposite." He also goes by "Big Boy" and "Bad Boy", both which suite him very well.
__
My husband calls him my Foo Cat as he's passionately devoted to the human who got him out of the crate above the dog he'd been living in for some months, when he's not hissing at me or swatting my legs as I walk by. He's a big hunk of boy kitty who deserved better than what he had before he came to us.