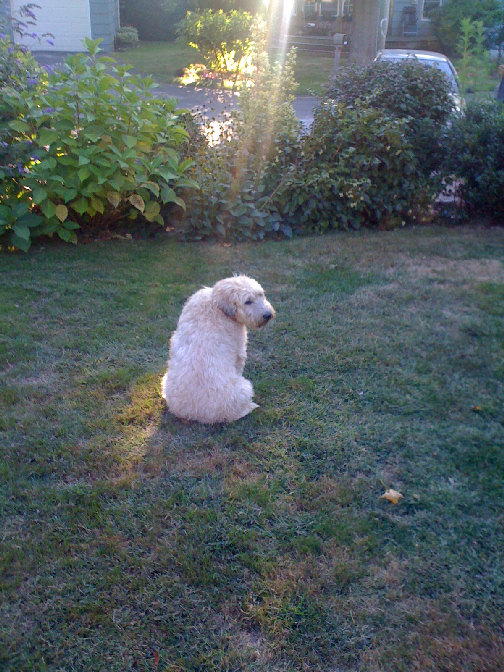 From commentor Joe F:
This is Clover, a ten year old Wheaton Terrier that I rescued almost three years ago from a euthanasia via gun shot on a farm in upstate Connecticut. He is as sweet as he is adorable and has brought light to not only my life, but the whole neighborhood that I live in; I cant walk down the street without someone yelling out from a passing car, "Clover!!" I don't get so much as a second look.
__
Well, January 20 was his birthday and unfortunately it appears as if he suffered a canine stroke or perhaps even a brain tumor. He became disoriented and began pacing incessantly, while emitting heart wrenching wimpers. It may be the end for this little guy. He is in the care of the vet and has made fractional progress, but today may be the day that I have to make a decision to spare him any further pain, which will create an enormous hole in my life. Apart from the neurological damage, he is fit as fiddle, so if we can get by this, there is no reason that he cannot resume a perfectly healthy life. I have a meeting at ten am this am to consult with the doctors.
__
I can tell you about his purring, snuggling, leaning and smiling, but I think the pictures tell the whole story. The one with the sunlight was not photo shopped in anyway and truly represents his divine nature.
__
He is a rescue dog in the truest sense because it was his love, companionship and outright wackiness that was the most important element in my recovery from drug and alcohol abuse. It would have NEVER happened without him around and I am having a hard time imaging what life might be like without him, so I felt compelled to reach out to a site that so properly gives animal their due. Please pray for the little fella, this world is a whole lot better place with him in it and he aint done spreading sunshine.
__
My neighborhood practically has the flags at half mast and I can feel the many prayers from everyone, but more could not hurt.
__
I would be grateful if you would ask your wonderfully compassionate readers if they might spare a thought for the Pooh-Bah of the Pooh Bears.
__
Thanks in advance for any and all of your thoughts.