From commentor JustPeachyAndYou:
… We're the crazy people down the street with lots of cats, currently seven. OK, we're not certifiable, but we are down the street.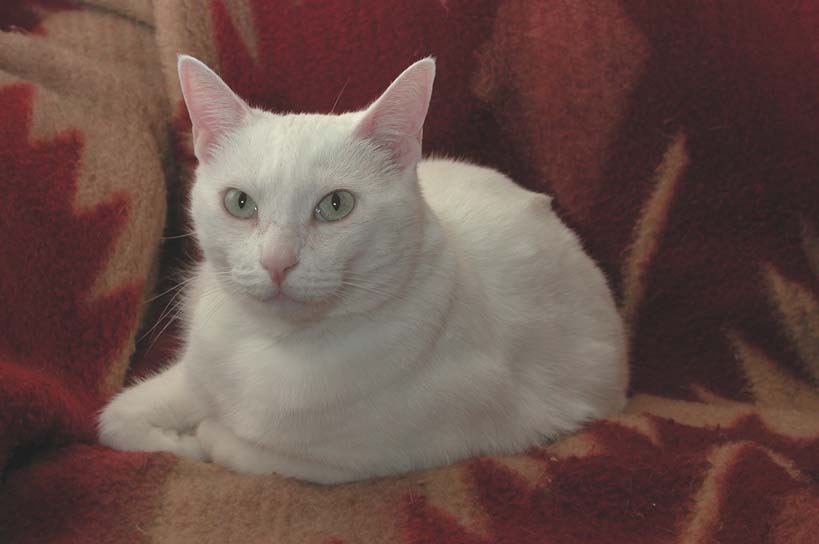 This is Chance, from around 2002. In the late 1980s we lived in L.A. Mr. JustPeachy was outside one pleasant evening in December after dark. He observed the budding psychopath neighbor kid throwing overhand a white cat against a fence in his backyard. The cat found a hole in the fence and quite literally leapt into Mr. JustPeachy's arms, who promptly took him into our garage for safekeeping. After seeing to the wounded and hungry cat's needs, he took the nearest 2×4 out to have a little come-to-Jesus talk with the kid. That I am not visiting Mr. JustPeachy in the state penitentiary is due only to the kid's vanishing act. We called the local animal control and filed a formal complaint against the kid, and our vet at the time gladly promised to testify, but we never heard from animal control again, despite the several messages we left. We moved to Colorado soon after.
__
It took months before Mr. JustPeachy could touch Chance without being bitten, and years before Chance would abide in the same room with any other human males. He was an inveterate imp and loved to play. His favorite toy was a rope, with which he would parade through the house with pride, much to the entertainment of other cats who would give chase. Though he's now old and slow, with heart, cancer, and arthritis, and immune system problems, he's still an imp at heart.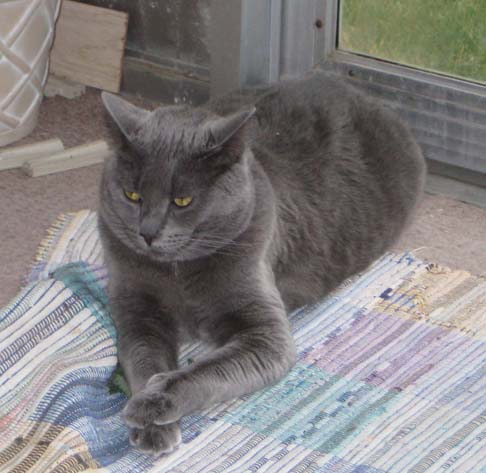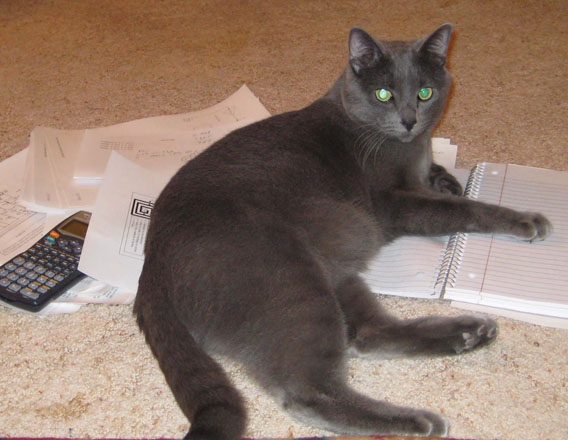 These are the greys, Dr. Doom (crossed paws, fatter, neophobic even for a cat) and Retief (skinny, gymnastic, and quite tolerant of The Terrible Tonks, about whom more later). They were born on a farm and left in a box our vet's home doorstep (surprise!). They had their own cage in the vet's office to see if anyone would adopt them, but no takers. When they were growing out of their cute kitten stage, our vet asked if we might like one. As they'd only ever known each other, we said we'd take both (good thing, too; they terrorized each other instead of the not-at-all-amused older cats we had at the time). Dr. Doom unpredictably pees on certain rugs, and Retief talks all the bloody time, worse than your tipsy Aunt Sadie, but we love them anyway…
(Note from Anne Laurie: FYWP only allows me 4 photos per post, so the rest of the saga will have to wait for the next EMOT)