Ah, the primal scent of wealth.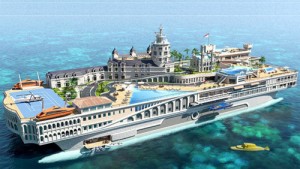 The staggering 155m Streets of Monaco yacht is expected to cost over $1.1 billion to build and is modelled on a section of Monte Carlo.

Currently in the design stage, the super-ship will feature smaller versions of the state's famous landmarks such as the Monte Carlo Casino and racetrack, as well as swimming pools, tennis courts, a cinema, a go kart track and a Hotel de Paris.
There's no news about a potential buyer yet. Whoever it is, I hope he gets a tax break soon.