A good Economist piece on global warming.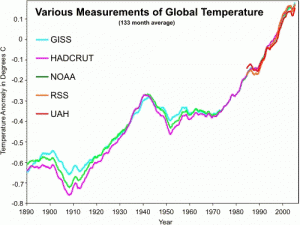 The George Will "global warming has ended" moment shows up as that little dip towards the end, before it returns to trend. So, what effect will the new data have on that meme? Quite possibly none. People who tried to cast doubt on global warming in 2009 based on a few years one could isolate so that they didn't show a discernible trend will now no doubt respond that a couple of very hot years don't prove anything. Which underlines how often the conclusions one draws from data are determined by a combination of the hypotheses you're framing, and at what point you start looking.

[….]

The first time we heard a scientist authoritatively state that the evidence was in, and that global warming was real, was when James Hansen said it while presenting his research to Congress in 1988. That was a daring claim for Mr Hansen to make at that point. It was daring because it was very clearly falsifiable. If, after 1988, global temperatures had stopped rising, or had started to exhibit a lot of volatility—if there had been a decade-long cooling episode, such as the world saw in the late 1930s and 40s—then Mr Hansen would have been discredited. But that didn't happen. Instead, for a decade and a half after Mr Hansen made the call, global mean temperatures kept going up and up. They bounced around a bit in the mid-2000s, and have now resumed rising again.
You know the drill: global warming isn't happening, if it is happening then it's not caused by human behavior, if it is caused by human behavior then we can't do anything about it, if it is caused by human behavior and we can do something about it, then that something is too expensive, if it is caused by human behavior and we can do something about it that is not too expensive, then that something is not what Democrats are proposing. And Al Gore is fat, he flies too much, look at his electricity bill, and sometimes when he goes somewhere it snows there, which is very ironic.