Everyone's tuning in right now to see what kind of insightful, civil, moderate things we will say about tonight's SOTU. So I thought I'd take this opportunity to pimp our store a little bit. The New York Times says coasters are the new throw rugs, so why not pick up one of these bad boys?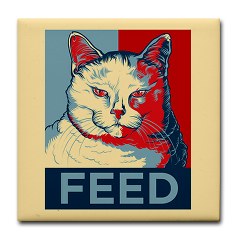 We've got other stuff too and as far as I know, it's all for a good cause.
Also too: last time something like a SOTU happened, all the exciting winger action was on twitter, not on the blogs. What teatard types should I be following on twitter?
Update. Here's the text of SOTU. It's not searchable but if you scroll down and scan, you should be able to find the phrase "man animal hybrids".