I usually get upset when you all make fun of Tunch's weight, but I walked into the living room and saw this, I knew I had to share it: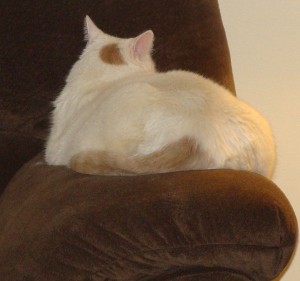 For some reason, he now has decided his favorite place to sleep is on the arm of the couch with his backside facing outwards. Why? Because he's a cat, that's why.
Today was just hectic as hell. I'm finally sick of this weather and sick of feeling tired and drained. And no, I don't have a vitamin D deficiency or any other health problem, I'm just sick of everything being gray and nasty outside. Think tonight is going to be another PG Tips and movies night.
Also, I'm just totally dispirited about the events in Egypt, because my fear is that honest good kids who want to be free over there are going to bring down the regime, and in the vacuum, some group will take power and put in place a far more repressive government. Additionally, the idiocy about making all of this a domestic partisan squabble is getting me down.