Stuart Rothenberg is a strange Beltway creature. DC insiders pay him big bucks for a subscription to his nonpartisan House and Senate race analysis, and he's actually pretty decent at that. But his other gig is penning breathless mash notes to establishment Republicans, like this one:
If the producers of AMC's popular "Mad Men" television series ever need someone to replace Jon Hamm, the actor who plays Don Draper, they need look no further than Speaker John Boehner.

The 11-term Ohio Republican, 61, is significantly older than Draper (Hamm is just short of his 40th birthday), but he has the advertising executive's smoothness, confidence, good looks and cigarette habit. And Boehner looks every bit as at ease with a drink in his hand as Draper does.
Stu needs to study up on his Mad Men characters, because I think he meant the guy in the middle of this picture, not the guy on the left: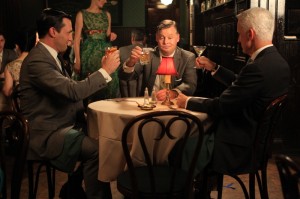 Boehner strikes me as a guy who's more likely to impress by peeing his pants after drinking too much. And I wouldn't be surprised if he's perfected a corny bar trick like playing Eine Kleine Nachtmusik on his zipper. But what do I know — let's throw it to the chickens.