From commentor IlsaLund: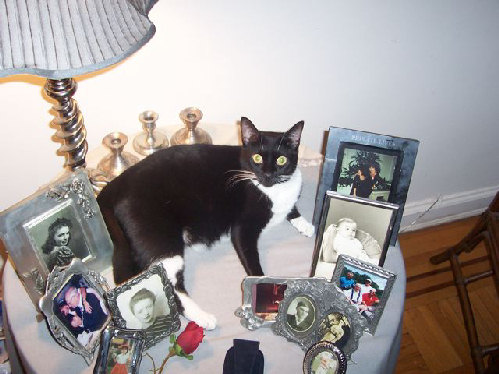 This is Clary, AKA Miss Pants. She was originally adopted as a kitten by a neighbor. The neighbor died suddenly and Clary was trapped in her apartment for four days before being freed. No one wanted her and I'd already said no because we had two 17 yr olds at the time and I thought bringing in a young cat would be too traumatic for them. But when my husband heard the sad tale, he insisted that we adopt her. When he went to take her home, he and Clary took one look at each other and they both fell madly in love. She's been with us for four years now. I love her madly, too, but she will always be Daddy's Girl.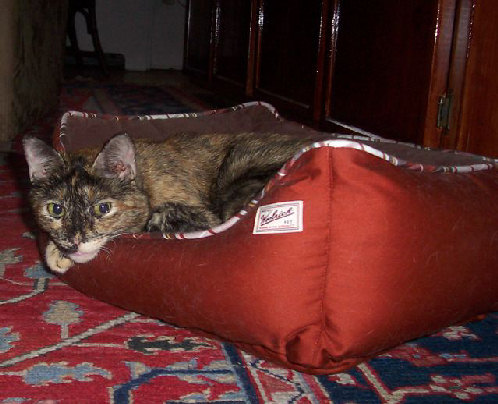 Luci was adopted 2 yrs ago, along with her companion, Princess. I found them on Petfinders after the two elderly cats died in 2008. Clary was devastated to lose them and miserable being an only cat. Plus, Clary was so attached to my husband that I sort of felt l needed a cat for me. I wanted one young cat and I got two seniors, now about 11 years old. Luci is the tiniest, but she is Top Cat. She spends most of her time sleeping in my closet, but when she feels like it, she runs and plays like a kitten.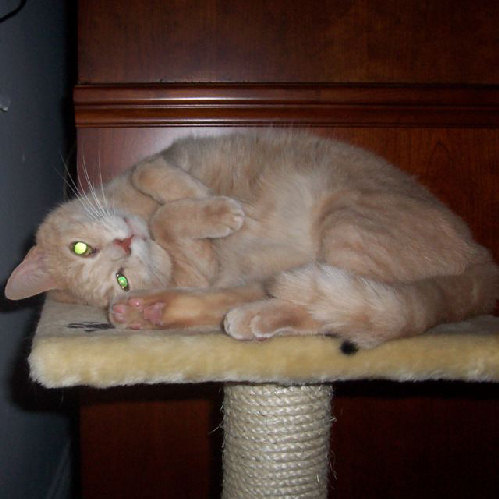 Princess in her signature pose. I have never met a cat who loves people more than Princess. The second she meets someone new, she rolls on her back for a tummy rub. We had a party the other night and she stayed in the thick of the crowd, hopping from person to person, absolutely delighting in all the company. She's Miss Personality, the "talker" of the bunch and just made of pure sunshine and joy.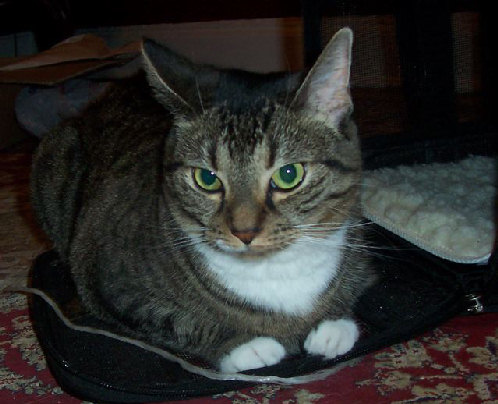 This is our newest, Annie. I took this picture at an animal hospital, where she and her brother were abandoned in July 2009. Her brother was adopted right away and Annie stayed as the "staff favorite." I had been feeling "broody"–that there was just something missing from the cat family we had made and I wanted just one more. I went to the hospital to meet another cat, but they brought Annie to me. They put her in my lap and she started to purr,drool, and then curled up in my arms–I was a goner. Her fur is as fluffy and soft as the down on a chick. She is the ultimate lap cat and loves to held like a newborn in our arms. When we got her home, Princess and Luci acted as if she were their long lost sister, adoring her instantly. Clary was pissed off and chased Annie for about a month or so, then calmed down. It's been almost a year and our little family is complete. I can't begin to describe how much joy they each bring to us and we are so grateful to have them.