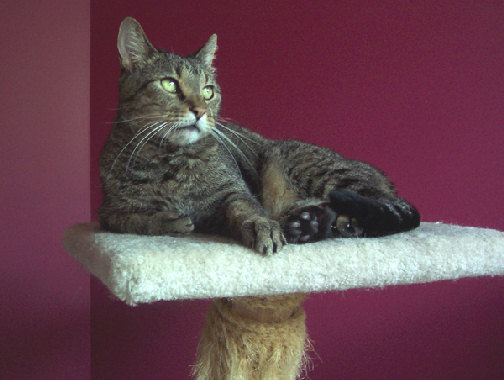 From commentor FoxinSocks:
About a year and a half ago, I found out from a friend about three cats who were going to be shot and killed on a farm in West Virginia. I was unemployed at the time and exceedingly broke, but no one else would help them, so me and my friend made the short trip across the state line to pick them up. So there I was, with three sick and malnourished but very grateful kitties in my bathroom. Luckily for me, I was referred to the wonderful folks at the Montgomery County MD SPCA who helped me vet and place the cats. Now, over a year later, I'm a foster with the MCSPCA with a new group of kitties, but times are tough, as bad as I've ever seen, and all the rescue groups are struggling…
__
This is Chip, an eight-year-old Tabby who was given up by his family. The family claimed he couldn't be handled and that he had litter box issues, but he's been great for me. Heck, I can barely get him off my lap! I call Chip the WB Frog cat though, because at home, he's this loving, devoted cat and at the shows, he's miserable and grumpy. So I tell people how wonderful he is and then they see him in person and he's nothing like I've described. But I swear, he's a friendly boy!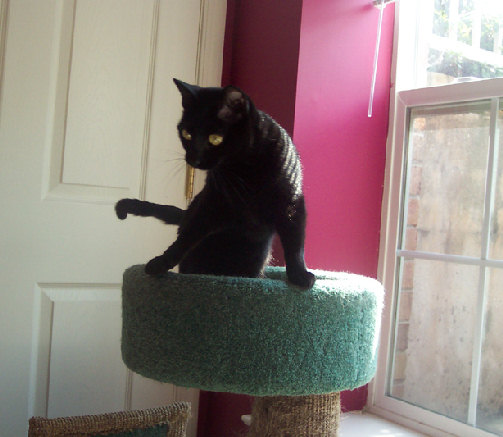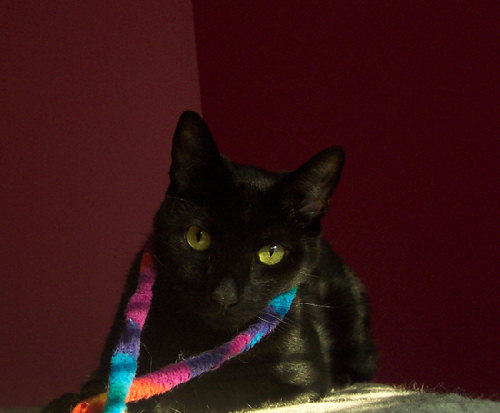 There's Natasha and Hemingway, who are most likely brother and sister, though they're not bonded. They were rescued from a hoarder's house that was filled with over 20 black cats. The MCSPCA came in there and spayed and neutered the whole bunch and has been slowly finding homes for the cats ever since. If someone adopted a black cat from our group in the last couple of years, chances are they came from that one single house!
__
When I got them, Natasha first, Hemingway about a month later, they were very under-socialized. Natasha quickly decided that people were great, especially when they had toys and treats, but Hemingway couldn't even be touched at first. I was worried about the guy, but slowly, with a lot of patience and the help of the other foster cats, who I swear were telling him not to be so afraid, he learned that people were OK. He's still quite shy, but as you can tell from the photo, he's a much calmer, happier guy nowadays. And he actually comes up to me for a scratch behind the ears! I still can't believe this is the same cat who hid under a cabinet for almost a week.
__
The funny thing is, coming from a hoarder, these cats are overjoyed by other cats and dogs. They hate being alone and whenever I get a new foster, they run right up to meet and greet. I just don't usually see cats who are so…enthusiastic about cats they've never met.
__
Like I said, with the economy being so bad, rescue groups are really struggling right now. Adoptions are slow and we're getting many more give-ups than usual. We desperately need more fosters. No matter where you might live, if you can foster, I urge you to give it a try! It's incredibly rewarding and pretty easy to do. I've seen cats who were terrified of people, who were sick and starving, transform into happy, healthy cats who were adopted by loving families. The way it works, the rescue group pays for vetting, all you need is lots of love, a spare room, and to pay for food and litter. You will also have to take the cat to the occasional adoption event and to the vet. If you can't foster, then please consider donating money or supplies to a local rescue. We're always strapped for cash, and every donation is welcome.