There are those who think the least snark directed Megan McArdle's way is a waste of time — that her Our Lady of Perpetual Error persona is a considered ploy to grab enough attention to make it worth her masters' while to retain her as Business and Economics Editor of the Atlantic. (Yes, the sound you just heard was Emerson spinning in his grave.)
__
Me, I'm actually sympathetic to that view, for all the joy I've taken in McArdle gigging over the last few years.  It would be better for both the body politic and the culture at large if McArdle's fifteen minutes simply dwindled to their inevitable end. Certainly, I'm not helping every time some new catastrophe evokes a bloggy response.
But the problem is that her quarter of an hour is not yet over, and McArdle is still The Atlantic's most prominent economics blogger, and she continues to weigh in on a whole raft of stuff about which she willfully knows nothing, all in order to advance an agenda that has only one item:  to comfort the comfortable.
__
So, despite the truth that each time someone points out she's made another howler it only adds to her profile, I think there is a duty to do so. Once upon a time, in organizations that saw themselves as doing real journalism for audiences with an understanding of the term,  errors actually mattered.  Anyone starting out would get a chance or two, or even three.  But when gastritis broke your calculator once too often, you'd seek a new line of work.  You'd go become a shill, perhaps — a time honored retreat into expense account heaven for plenty of hacks who couldn't hack the hard work of actually getting stuff right … or for whom, as in McArdle's case, getting things wrong is a feature and not a bug.  That this hasn't happened here is a problem for McArdle's colleagues, I think, or it ought to be…about which a little more below.
__
So what's today's problem post?  Nothing overtly political actually, which in some ways makes the case of McArdle's unfitness for her claimed role yet more clear.   In her post, "The Economics of Kitchens," she attempts to engage an ongoing discussion between Paul Krugman and Tyler Cowen on the pace of innovation.  Krugman and Cowen point out that there isn't a whole lot new in kitchens today compared with those of sixty years ago.  Not so, says McArdle.  Rather, we live now in culinary paradise compared to those bad old days:
1953 kitchens did not have electric drip coffee brewers, stand mixers, blenders, food processors, or crock pots….
Err, no.  I'll give McArdle this.  Electric drip coffee makers do first appear in the 1970s.  The electric vacuum coffee maker was, however, a common appliance and a very competitive marketplace. Not to mention that it was a technology that offered such incredibly cool options as the Faberware Coffee Robot: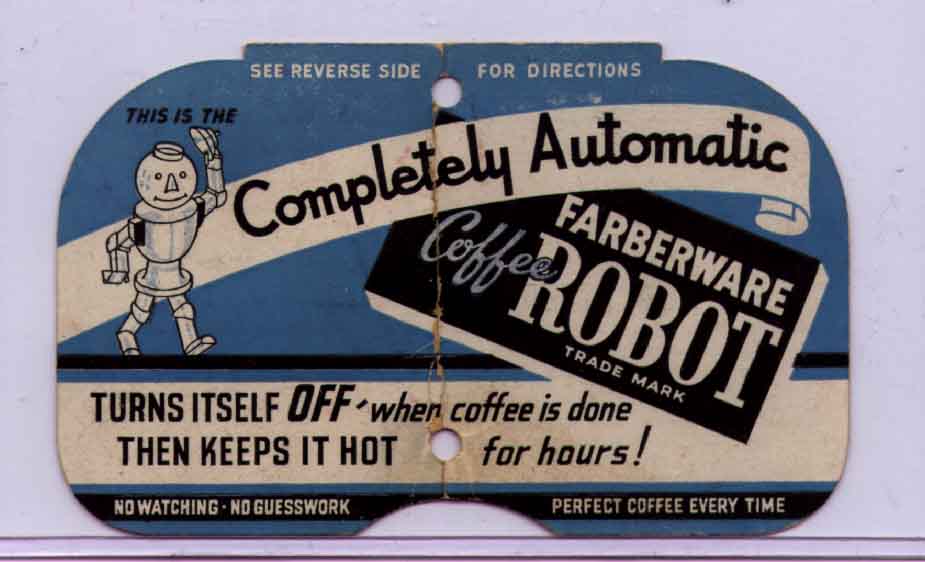 Stand mixers in the 1950s?  Oh, you mean the standing mixer invented in 1908 by Herbert Johnson, sold to commercial bakers in 1915, and released for the home as the KitchenAid Food Preparer in…wait for it…1919?  Sunbeam released its cheaper alternative in the '30s, and in 1954, (that kitchen of the 50s thing again) one could actually purchase a KitchenAid in a color other than white.
__
Blenders? Same story. The blender was invented in 1922 first as a tool for soda counters, and the iconic Waring Blender hit the market in 1937.  By 1954, one million had been sold. As a sidenote, the Vitamix Corporation introduced a competitor to the Waring machine, and in 1949 sold it with the aid of a thirty minute broadcast on a brand new medium:  WEWS TV in Cleveland, in what is thought to be the first ever direct response ad.
You get the idea.  In the list above, food processors and slow cookers are in fact inventions that have their roots in the sixties and their commercial release in the early 70s.  Give McArdle that — but the point to take away from this is that in a list of five statements of fact, McArdle gets two wrong unequivocally, is deceptive in a third case (there were no automatic drip coffeemakers, but automatic makers using other brewing methods were readily available) and right only in two cases.  .400 may be fabulous in baseball.  In journalism, it wouldn't even propel you to the Cape Cod League.
Then there's this:
…aside from the privileged few who could afford copper, most Americans were cooking on thin, low-quality stainless steel and aluminum pans that deformed easily…
McArdle knows this how?  It's a pretty bald declaration that would have come as a shock to a company like Lodge (founded 1896) or Wagner (founded 1891).  And if you want to think about the availability of high-end cookware aimed at more regular folks, what about the company born of a trip to Paris in 1952, on which Chuck Williams first encountered "classic French cooking equipment like omelet pans and souffle molds whose quality I'd never seen in the U.S." Williams opened his first store in 1956 in the then very ordinary small-town farming community of Sonoma, California.  Williams-Sonoma proved to have legs, I believe.
__
__
Again, the point isn't that one store in Sonoma in 1956 = sauciers for everyone.  It is that McArdle has neither knowledge nor diligence enough to investigate even this really elementary question of fact:   whether or not Americans in the '50s cooked in lots of different kinds of pots.
__
And how about this:
I don't believe that they have gone without fresh produce for six to eight months at a time, as my mother did in her childhood–and was told to be grateful for the frozen vegetables which hadn't been available when her mother was young…Is the shift to flash frozen produce greater, or less great, than the shift from flash frozen to the fresh produce made possible by falling trade barriers, rising air travel, and the advent of container shipping?
There's a lot wrong with this little passage, but here, let me just point out that McArdle is simply wrong in what she implies here about the history of the transport of refrigerated food.  The earliest prototype of a mechanically cooled railroad car received a US patent in 1880.  It certainly did take a long time for that to yield practical diesel-powered refrigeration on rails, but the use of natural ice for refrigerating specially designed rail cars — "reefers" dates back to the mid 19th century.  By the early 1880s, the Swift company were using ice-cooled cars to deliver 3,000 carcasses a week from the midwest to Boston.  When ice production on industrial scale took off around the turn of the twentieth century, refrigeration on rails became so pervasive that 183,000 reefer cars were on US rails by 1930.
__
All of which is to say that the delivery of fresh food to locations distant from production is something that has evolved over the last century and a half — and is not simply, or even mostly, the result of falling trade barriers, air transport or containers.
Or, in other words, McArdle — again — knows not whereof she speaks.
Of course, this being a piece by McArdle, it is not possessed merely of  factual howlers.  Misused citations also do their duty.
For one:  McArdle writes that you can tell Americans in the '50s ate badly by looking to the sources:
It shows in the cookbooks.  The Betty Crocker is full of economizing tips: ways to stretch ground beef by adding Wheaties; noodle and rice rings that artfully disguise the fact that there isn't much protein to go around; "one egg" cakes praised for being economical.  This was not a handout for welfare recipients; it was expected that the average housewife would be anxiously counting the cost of the eggs and milk used in her baked goods, and looking for ways to stretch out even cheap cuts of meat at the end of the month.
A couple of things here:  cookbooks published in the late '40s and early '50s often retained some of the traces of WW II rationing; they are very useful documents for the social history of that era, but they are not wholly reliable guides to the cooking practices of the post-rationing world.
__
More to the point of method and intellectual honesty, there's the question of whether or not a 50s era "average housewife" text is that different from later, similar works.  I checked my '75 edition of The Joy of Cooking, a perhaps slightly more upmarket cookbook than the Betty Crocker, and I find that when you get to the ground meat section, for example, there is a section on stretching animal proteins with starches, how you flavor such mixtures and so on. (And I'm not even going to go into the wealth of "improving" cookbooks that were also the rage in the '50s, and that would give the lie to McArdle's suggestion that those benighted days were wholly nasty, brutish, and full of hamburger helpers.  I've got a classic double-volume edition of the Gourmet cookbook from that period that shows that would be pink-Himalayan saltanistas would have had plenty of guidance.)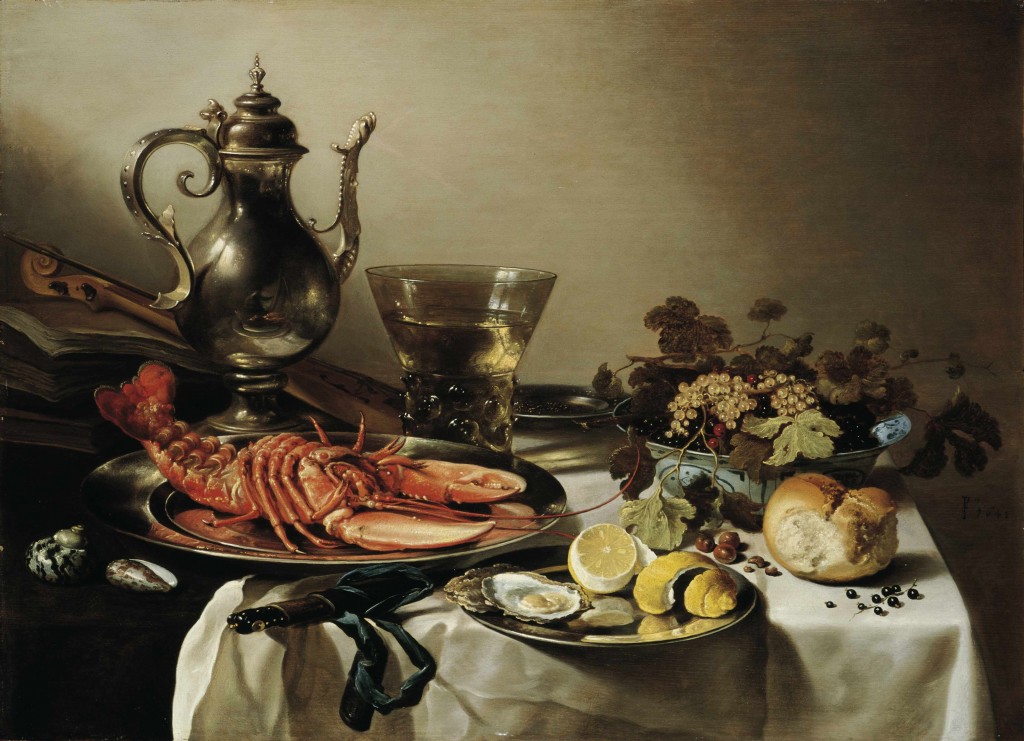 __
And finally, this: it wouldn't be a McArdle piece in all its glory without a bit of gratuitious viciousness to the poor:
Now, I'm sure there are still people in this country who worry about the price of adding an extra egg to their cakes–but they are not the average, or even close to the average.
Current percentage of Americans in poverty?  As of 2009, 14.3% nationwide, according the US Census Bureau. Almost exactly the same proportion — 14.7% — American households suffered food insecurity according to the Department of Agriculture.
__
That is to say, those who might weigh the price of eggs may not be not average — but more than one out of every eight Americans had a moment recently when they might have thought twice and thrice about cracking that last shell  — or rather, had no cake at all to ponder.
__
This, of course, is the point to which McArdle was tending this whole time.  Even here, in a seemingly weightless post about cooking and memory,  McArdle is still working her one consistent vein of propaganda:  We live now at the apex of history, in the best of all possible worlds and hence would alter the existing power structure at our own great risk … and BTW f*ck the poor.  Same old, same old, in other words and just as dishonestly advanced as in the more obviously political of her work.  Which makes it more dangerous, I think, not less.
Oh well.  I could and probably should have got to this point in the story much sooner.  But all the overkill above is actually aimed at anyone who still takes McArdle seriously on any score — and it is especially intended to leave no doubt in anyone's mind about the damage she does by association to anyone and any institution that claims to be serious about journalism.  That she still survives — hell, holds a prominent position at The Atlantic — casts a shadow, fairly or not, over the work of the genuinely thoughtful real journalists who still publish there, folks like James Fallows and Ta-Nehisi Coates along with many others.
As they care for their reputation, they must wince at the collateral damage inflicted every time McArdle hits the "publish" button.
__
__