A WEAKLING, A WALK-ON & A DRIVE-BY
__
We've always had rescue kitties, from the pound when I was a youngster and a series of walk-ons in later years, more recently at the Dear Friend & Conscience's home in the mountains.
__
Kimba wasn't actually a walk on because he was too weak at even six weeks or so to do much beyond standing up. His feral mother was trying to keep him alive in the woods behind the house and when she deposited him under the deck, the DF&C snatched him. His one blue and one golden eye were glued shut because of a discharge. He was riddled with fleas, was all skin and bones and not long for the world. Today Kimba is going on eight years old. He's a couple cards short of a full deck, probably as a result of his mother's parlous health when he was in utero, but he's a love bug…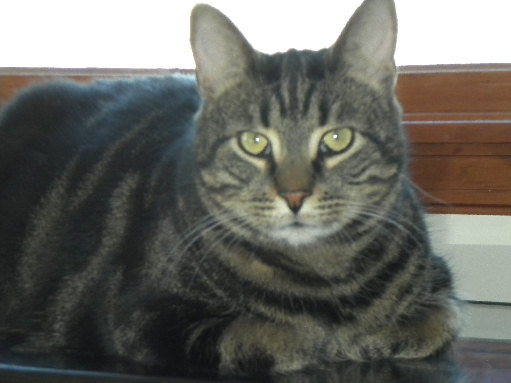 And knows an underdog, er . . . undercat when he sees one. Kimba seldom has anything to say, but he started making a fuss late at night the winter before last. The wind chill was below zero the night the DF&C saw a very beautiful but very emaciated gray tabby just out of kittenhood looking in at Kimba through glass the sliders. We began leaving food and water for him and after a couple of weeks lured him into a Havaheart trap and whisked him off to the vet's, where he was shotted, dipped and snipped. Today Taj (middle photo) is about two and a half. His fat pads have grown back in and he's got a linebacker's build, but the most delicate little meow.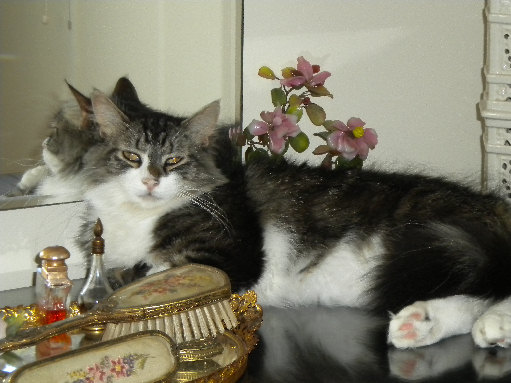 Iggie actually was a drive-by. An elderly gent who lives in the area and leaves food for feral cats in old barns and such said that Iggie, who obviously has Maine coon cat blood, kept showing up behind his house. His wife threatened to divorce him if he took in yet another cat, so Leon remains happily married and Iggie, who was about nine months old when he was adopted and is probably a year and a half old now, is happily part of our brood. His crazed look and slightly crossed eyes notwithstanding, he is among the most intelligent cats that I've ever been around. How intelligent? Well, he caught a field mouse out in the garage the other day, bit off its head and deposited the carcass in our recycling box.
__
A few words of advice for anyone contemplating getting a rescue kitty, especially one who has been in the wild. All of ours spend their first few weeks under "house arrest" in a basement powder room with a couple of stacked window screens blocking the doorway. This way they can become acclimated to the sounds, smells and routines of the house, as well as get to know the other kitties. Oh, and no matter the circumstances of each of our kitties, you'd better believe that they found us and not the other way around.