Not to step on DougJ's toes, but this part of the response at the League from Jason struck me as odd:
To everyone who eagerly broke out the metaphorical popcorn in DougJ's comments — I'm sure I could come up with some patronizing questions for you, too. Would you like that? I'm not sure I would, which is why I haven't, yet. But I'm sure I could.

Sheesh. Why do I bother?
He continues on in the comments:
No, no, no. These are liberals. Let's try this:

1. When was the last time you condemned Stalin? If it's been longer than a year, will you now take the opportunity and do so?

2. The individual broccoli mandate: for or against?

3. The last time you bought coffee, was it fair trade? If not, why not? Justify your answer using Rawls' difference principle.

And so on. Caricature is easy, isn't it?
Maybe I am missing some polling data, but I guess I've just never seen a lot of support for Stalin in the Democratic party, nor any reference to broccoli in the party platform. Granted, I've only been a Democrat for a couple years. On the other hand, there is this: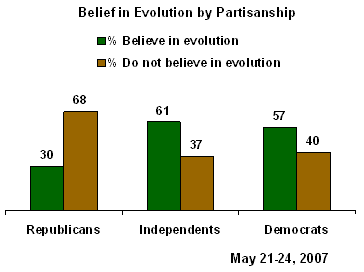 Add to it that some Republican state party platforms explicitly reference evolution. Thinking the majority of Republicans and Conservatives doubt evolution isn't a smear or an unfair caricature, it's reality. It's a sad one, too, because apparently the majority of the population doubts evolutionary theory. And DougJ asking conservatives he thinks are somewhat sane isn't some kind of personal attack (way to take a compliment there, Jason! We will dutifully add you to the insane/unreasonable list!). On the other hand, pretending there is some teeming mass of liberals pining for the days of Stalin isn't even remotely plausible. It's the kind of nonsense gibberish we expect from Glenn Beck and Rush Limbaugh and, well, Sarah Palin.
*** Update ***
From the comments here:
This post isn't really fair.

Jason K. doesn't "continue in the comments." He doesn't present those questions as being the equivalent of "Do you believe in evolution? Has the average global temperature risen over the past 30 years?"

He was replying to someone who posted some questions from Jeff Foxworthy's "You Might Be a Redneck" book. He isn't claiming that evolution denying, global warming denying questions stereotype conservatives, but that redneck jokes do.
I'll agree with that- stating he "continues on" in the comments isn't really accurate or fair. On the other hand, I just don't understand why he would associate those things with liberals, anyway.