He's no John Thune but those Paul Newman eyes and fit physique.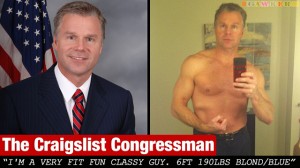 Rep. Christopher Lee is a married Republican congressman serving the 26th District of New York. But when he trolls Craigslist's "Women Seeking Men" forum, he's Christopher Lee, divorced "lobbyist" and "fit fun classy guy." One object of his flirtation told us her story.

[….]

Lee's Craigslist correspondent—a government employee from Maryland who asked not to be identified—liked what she saw. She replied flirtatiously. He replied with a PG-13 muscle picture.