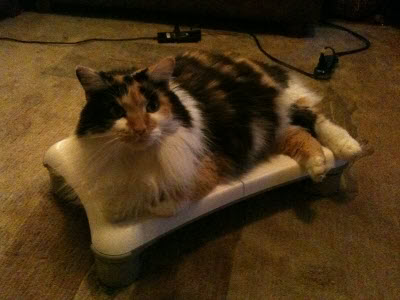 From commentor MEM:
Good Queen Bess (usually just Bess, unless she's being regal) was found wandering the streets of Dorchester in 2008, matted and scared, by the Animal Rescue League. I had seen one more article in The Boston Globe about how full the animal shelters were getting, as more and more people had to move due to foreclosures or job losses. I decided it was time to adopt. Going to the shelter is tough. There are so many sweet animals there, and you want all of them. Of course, the kittens make you melt. But I decided I didn't want the kitten crazies at this point. I wanted a more sedate older kitty, to match my more sedate lifestyle.
__
I saw Bess. Her cage tag said "lap cat". They estimated that she was about 3 years old. She'd been at the shelter almost 3 months. She was very slinky and soft, and loved to be petted. She liked to be brushed (whew). I always wanted a calico (or money cat, as we called them growing up)—because I love genetics and the story of X-inactivation. And those super-furry powder-puff paws are irresistible. We signed the papers, got chipped, and went home that day.
__
She cried a bit at first. She was missing someone. But after the first month she seemed to warm up to me fully. She gets on the bed in the morning and puts the powder puff on your cheek, accompanied by a laser beam stare. You have to laugh because it's so gentle, yet so clear. And starting your day giggling is not a bad way to begin. The same furry paws are a riot on the wood floors too. She has no traction, which makes running look like Wile E. Coyote. Once she does get purchase, she can't stop—so it also means that sliding into area rugs functions as her braking system. Every rug in the house is has become a trip hazard for the humans–none of them have been flat all day for 2 years now.
__
Adopting an adult kitty was exactly the right thing for me. And we'll still have years together, giggling and tripping around the house. And fighting over the appropriate use of the Wii Fit.