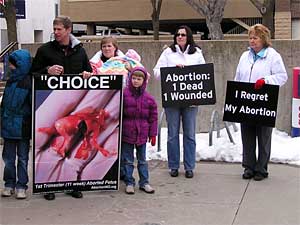 Having explained the stupidity of the South Dakota state legislature, it looks like it's time for a short history and explanation of abortion (and "abortionists") in my benighted home state.
In the town where I grew up, if you were Catholic, you attended mass at the only church in town that had a picture of a fetus prominently displayed out front, accompanied by altar society ladies wearing little silver pins in the form of fetus feet, and given by a priest who made the evil of abortion the subject of his homily at least once a month. And if you wanted to have an abortion, you had to drive 200 miles to Rapid City, passing dozens of "Abortion Kills a Beating Heart" signs and pictures of tiny fetuses hand-painted on billboards sponsored by Catholic churches along the way.
Once you got there, you'd be treated by Ben Munson, who was the only physician in the state performing abortions for a couple of decades. Ben's work began long before Roe v Wade, and he was being prosecuted for doing so at the time the Roe decision came down. He was considered competent, though he was tried for manslaughter (and acquitted) after one of his patients died post-abortion. He retired in the mid-80's.
After Ben retired, another older gynecologist, Buck Williams, took over in Sioux Falls. Buck persevered through endless protests, usually sparked by Catholics (including the bishop), and he was constantly threatened, which led him to increase the caliber of the handgun he carried. He joined forces with Planned Parenthood in the 90's, and ended his career in their fortress/clinic there.
Buck retired sometime in the late 90's. Since then, Planned Parenthood has been flying in doctors from Minneapolis to work in their Sioux Falls bunker. Unlike Williams and Munson, who delivered babies and saved women's lives as part of their regular practices, these "abortionists" have no connection to the community. For better or worse, Munson and Williams were household names, and it just wouldn't have been decent for the legislature contemplating an open season on the men who delivered their kids and grandkids.
Now that these "abortionists" are flown in from out of state, it's really not that surprising that the legislature is contemplating declaring open season on them. It's just another step in the campaign of constant harassment that's been going on for decades, orchestrated in large part by the Catholic Church. Though, to their credit, I have to acknowledge that they are still "monitoring" the murder of abortionists act. Apparently it takes a while for these christians to decide whether they'll support amnesty for anyone who guns down an abortionist in front of the clinic where they support year-round constant protest.