David Brooks says the Chinese will destroy us because today's "Jareds" screw around on Facebook all day instead of working long hours like their grandfather "Sam":
Sam entered a world of iceboxes, horse-drawn buggies and, commonly, outhouses. He died in a world of air-conditioning, Chevy Camaros and Moon landings. His life was defined by dramatic material changes, and Sam worked feverishly hard to build a company that sold brake systems. Sam wasn't the most refined person, but he understood that if he wanted to create a secure life for his family he had to create wealth.

[…..]

Jared lives a much more intellectually diverse life than Sam. He loves Facebook, YouTube, Wikipedia and his iPhone apps. But many of these things are produced outside the conventional monetized economy. Most of the products are produced by people working for free. They cost nothing to consume.

[….]

Jared is also providing much less opportunity for those down the income scale than his grandfather did. Sam was more hardhearted, yet his feverish materialism created more jobs.

Jared worries about that. He also worries that the Chinese and others have a material drive that he and his cohort lacks. But he's not changing. For the past few decades, Americans have devoted more of their energies to postmaterial arenas and less and less, for better and worse, to the sheer production of wealth.
Of course it is unthinkable that any East Asian person would ever waste time on electronic gadgets and social media. Beyond that, though, do the middle-to-upper-middle-class "Jareds" of the world actually work less than their grandfathers? No, they seem to work a little more.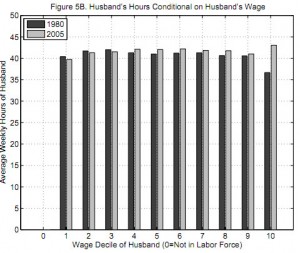 Nice try, though, Bobo.
Update. You all know why that top decile is working so much harder today than in 1980 right?
The Reagan tax cuts let them keep more of their money, so they stopped withholding their productivity.