After Conor Friedersdorf was thoroughly "fisked" — to use a word he can understand — for pimping an error-filled National Review article that supported Andrew Breitbart's attempt to start a race war out of a settled case of discrimination, he responded with a little humility:
All I can say is that it was an honest mistake, and while I wish I would've raised it in my initial post, I am at least glad that I blogged about this issue because a lot of folks who were wrong in the same way I was now have the benefit of understanding this controversy better. I'll certainly deploy your arguments as this case gets covered elsewhere.
That lasted about as long as it took the author of the original National Review, Dan Foster, to put up a lengthy defense of his original piece: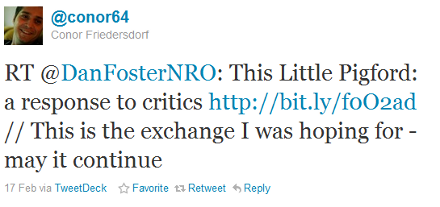 The main thing you need to know about that defense is that, at many key points, Foster cites either Andrew Breitbart or Breitbart's helper, Lee Stranahan, for factual evidence. He many have done independent reporting on his own, but when it comes down to the important facts, he's citing a person Conor has acknowledged that he can't trust. But Conor's more than willing to pimp Breitbart's story through an intermediary. How is that anything but useful idiocy?
(Thanks to reader AB for sending this in.)