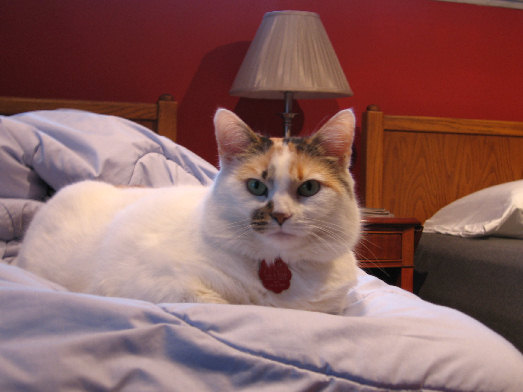 From commentor Ross F:
I have relatives in Columbus, Ohio who are looking for someone to adopt their cat. They've been having difficulty finding a new home and the local humane society was sadly pessimistic. Unfortunately, my relatives have to move and the cat cannot come with them. I've included a picture and some description below. Any help would be super awesome.
__
Miss Kitty:
White cat with calico patches — 7 years old — Very gentle
Neutered — Front paws declawed
Shots up to date — Good health — Eats dry food
Likes to talk — Likes to sit in your lap — Likes to be scratched
Anybody in the Columbus area got tips about rescue groups or no-kill shelters that might have room for one more? Or maybe even leads to someone who's looking for a new feline housemate?