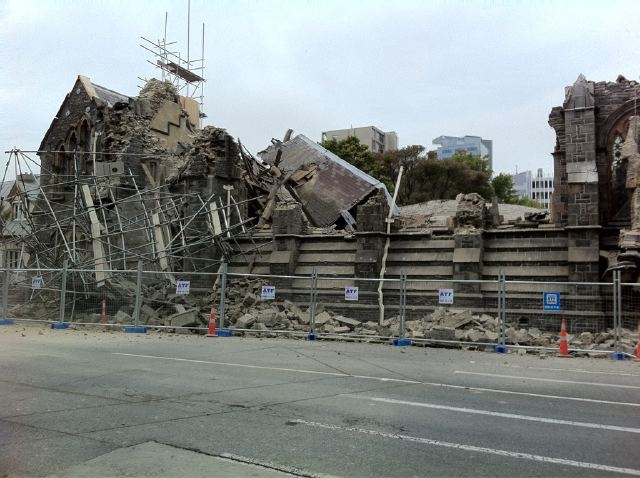 (by @matwiseman from Twitter for iPhone 5 hours 28 mins ago)
__
Per the Washington Post, NZ leader says at least 65 killed in earthquake:
A powerful earthquake slammed New Zealand's already-bruised city of Christchurch on Tuesday, killing at least 65 people, and sending rescuers scrambling to help people trapped under collapsed buildings.
__
The 6.3 magnitude earthquake hit the country's second-largest city around lunchtime, collapsing buildings and sending bricks and other heavy debris toppling into busy city streets. It was the second major quake to strike Christchurch in the past five months…
__
Video footage showed some multi-storey buildings collapsed in on themselves, and others with walls that had collapsed into the streets, strewn with bricks and shattered concrete. Sidewalks and roads were cracked and split, and thousands of dazed, screaming and crying residents wandered through the streets as sirens blared. Groups of people helped victims clutching bleedings wounds, and others were carried to private vehicles in makeshift stretchers fashioned from rugs or bits of debris.
__
Christchurch Mayor Bob Parker declared a state of emergency and ordered people to evacuate the city center. Troops were deployed to help people get out and to throw up a security cordon around the stricken area, Deputy Prime Minister Bill English said.
… The earthquake hit Christchurch, on the country's south island, just before 1 p.m. It was the latest in a series of large earthquakes to strike the area in recent months. In September, a 7.1-magnitude earthquake struck near the city, but caused no casualties because it took place in the early morning when virtually everyone was still at home.
__
Despite its lower magnitude, the depth and location of the earthquake on Tuesday could make it more damaging…
__
"It's a nightmare," said Kevin Fenaughty of GNS Science, an earth science research institute in New Zealand. "A lot of people were just getting back on their feet after the original quake."
Best place for donations at the moment is probably the NZ Red Cross.
Anybody who's got more information, suggestions, etc.?