A commenter sends by this picture from the Harrisburg rally yesterday: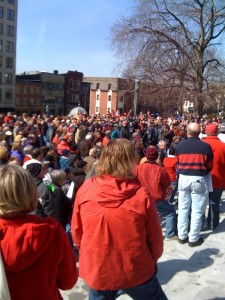 I read on FDL that there were 70-100k people at Madison, until the cops came and… JOINED THE RALLY! That's a pretty good turnout, so well done, Wisconsin.
BTW- having spent some time in Madison last year, it is uniquely constructed to be perfect for rallies, with massive spaces all around the building and multiple avenues of approach, with vendors and all sorts of ways to eat and feed a crowd. Such a great city. And I maintain that Union Cab was one of the best cab companies I have ever used.