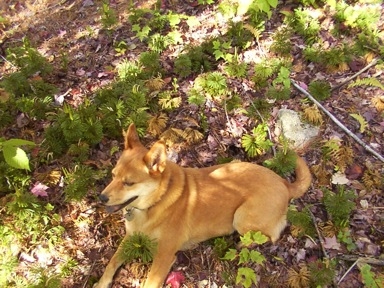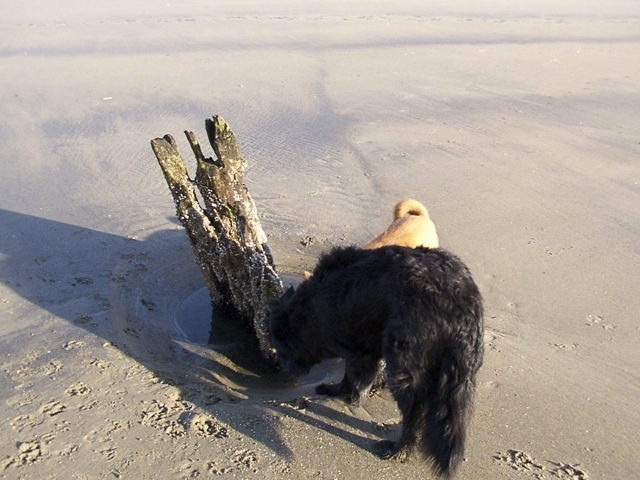 From commentor Bloomingpoll:
We adopted Foxy, the red Shiba Inu mix, in 1999 as a buddy for another adoptee, Ollie, who had lost his companion in a horrible accident… Ollie's reaction to her death was to escape from the house however he could, including jumping through screens, when left alone. He was a lab/setter mix, with the narrow ribcage of the red setter, and he could get out of a car window that was only down 6 inches, I swear! He had been tied to a dog house and was "repossessed" by the Cocheco Valley Humane Society in Dover NH. He once climbed a 6 foot chain link fence in his attempt to escape a thunder storm. If I had been tied out in storms, I suspect I would feel the same way. He usually went down the road to the kennel and sat on the front porch there. He died from a brain tumor, we think, at age 12.
Morgan was my husband's promised adoptee on his retirement (I had said, no more dogs until someone is home most of the time.) He is apparently a yellow lab, but very tall and big, 120-130 lbs, a lot of dog, but extremely nice. He is reaching the end, I fear, having some nerve damage in the rear end that makes steps difficult and produces a wobbly walk. We had a granite front step that required a big step up, so my husband built a nice front porch with a place to lie and easier steps. Better for us aging folks too.
__
Foxy's claim to infamy was her love, as a puppy (we got her at 6 months, she was a stray), of plastic, including hearing aids (we heard later that ear wax is a delicacy to dogs!). She chewed ballpoint pens, and loved the plastic strap on the back of baseball caps, as well as VCR cases. At age one she stopped all the silliness, and is the perfect dog, except for her insatiable desire to be patted 24 hours a day by all humans possible. She is very much a larger version of John's Lily, which I find fascinating. And another oddity, Foxy and Morgan both were born in March of 1999, we adopted Foxy that year, Morgan in 2005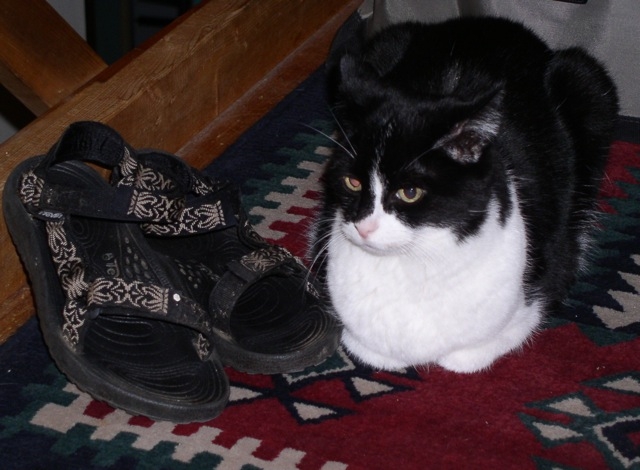 Roo was left with us by an offspring. She was one of those unfriendly cats, with a propensity to be a guard cat, hissing and spitting at visitors, and then hiding. She would bite with little warning, and had a habit of hiding under the furniture and attacking the ankles of any human who needed to visit the bathroom in the dark. One could hear her coming. I never got used to that. She had several years of licking all the fur off her belly and making it raw, which involved doses of prednisone and the fun of giving pills to cats. It finally just went away as she aged and mellowed a bit. She died a couple of years ago at the age of about 20. Indoor cat, scared to death of outside, good mouser, even with no front claws, and no we didn't do that, the offspring who was the previous owner did.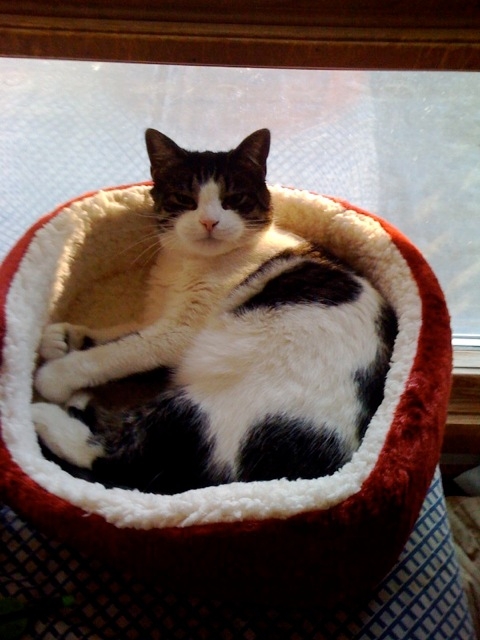 Sophie adopted my husband Ben. She had been left at our vet, in the entry way, obviously a cared for cat, although she had been declawed as well. When he was invited to look at a shy cat the vet was trying to adopt out, she snuck up from behind and grabbed him, and the deed was done. Except for her hiding from the dogs the first week, she has been friendly, accepting of love, and a superb mouser. Unfortunately, after eating the first couple, she has a habit now of playing with them, and loves to do it in the bathroom or on the stairs. Occasionally she loses them, and we never know whether the next move by the mouse is escape, or dying in a hiding place and stinking up the house.