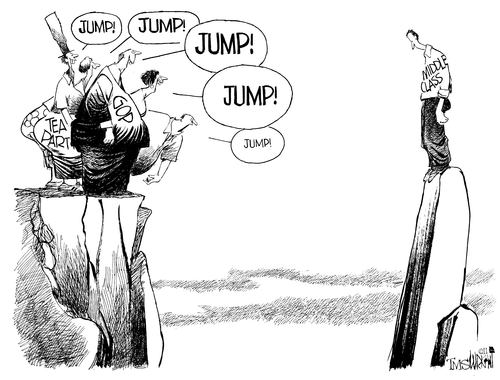 In a post that I sincerely hope will be emailed to Mr. Brooks by all his most au courant frenemies, Tom Scocca at Slate discusses the Politics of Entitlement:
"We're going to be doing a lot of deficit cutting over the next several years," David Brooks announced, plurally, in their column in today's New York Times. Little-known fact: the byline "David Brooks" is produced by five guys named "David Brook." They all get together and agree on stuff!
__
David Brooks are very concerned about the budget lately. It is an ongoing theme. Last week, they wrote about why Indiana's governor, Mitch Daniels, should run for president—meaning just go ahead and be president, since Brooks don't care for the whole untidy business of winning votes in elections…
Seriously, you should already have clicked over to read the whole thing, because it is 100-proof awesomesauce with a sidecar of righteous:
The debt—the runaway debt—has nothing to do with morality. Casting the debt as an object of moral concern is the work of minds that have come detached from human experience. The debt is an epiphenomenon. It is the side effect created by the specific moral decisions about what the country wishes to see funded, and how it is willing to fund those things.
__
Talking about the deficit is a way of cutting morality out of the discussion. Waste! Mismanagement! Incompetence! Unaccountable earmarks! These things are noise. The actual questions are: is money to be spent on people who do not have money? And where is that money going to come from?
__
There are people who do not have money. Some of them do not have money because they are children. Some of them do not have money because they are old or sick or otherwise unsuited for the labor market. Some of them do not have money because the labor market has stopped paying for the work that they know how to do in the places where they live. Robots and other machines can approximate the things these people used to do…
And the final summary paragraph is a diamond sharp enough to engrave its words on Brooks' well-fed torso, if not his impervious conscience. (No, I'm not quoting — go read it in context.) Several commentors have already pointed out this particular example of Scocca's excoriating brilliance, but I wanted to front-page it when all of you could enjoy it over your coffee / workout / morning commute. DougJ, I'm sorry, but in the ever-expanding field of semi-professional BoBo-bashing, you're gonna have to step up your game.
(Cartoon: Don Wright via Gocomics.com)