And the media continues to be played like a fiddle by the devil down in Georgia:
Former House Speaker Newt Gingrich (R) only announcement on Thursday was that he's launched a website related to his possible presidential bid.

Gingrich did not announce that he intends to seek the Republican nomination in 2012, nor did he announce the formal formation of an exploratory committee to pursue the nomination.

"[W]e are today establishing a website NewtExplore2012.com," Gingrich said. "We will look at this very seriously and we will very methodically lay out the framework of what we'll do next."
And what is featured on that website? This: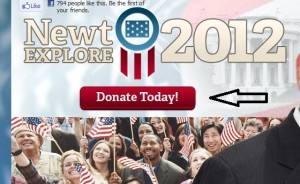 Palin and Gingrich and the rest of the GOP grifters aren't very subtle, but who needs to be when these beltway clowns are your mark? A couple months of "exploring" a Presidential bid is probably enough to fund his lavish jet-setting lifestyle for a while. This really is lucrative stuff- spend a couple grand on a website, and let the press do the rest. And it is a renewable resource- he can "explore" a run every few years.
And why is Gingrich posing with Cindy McCain?