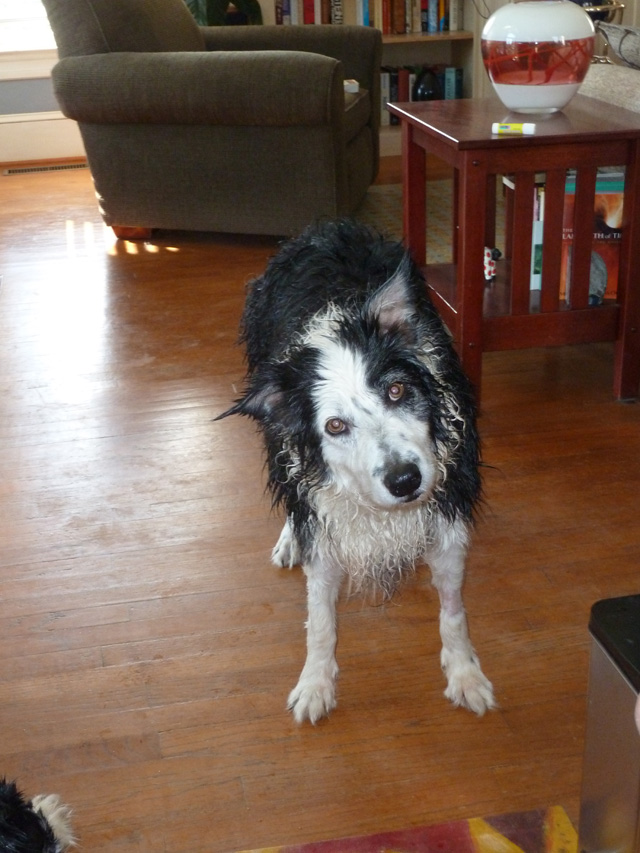 Back at end of last year, commentor Paul C shared the tale of his dogs Sugar & Sam. He was kind enough to send an update this weekend:
The cardiologist at Georgia Veterinary Specialists ordered a CT scan and verified that it was a lung tumor and that she needed surgery. I gave her a bath the day before (photo above)… They removed one lung lobe containing masses, another that shared an airway with the affected lobe, and sampled her lymph system while they were in there.
__
Dogs are amazingly tough. She went in early on a Tuesday morning for surgery. They wouldn't let me visit her that day to avoid agitating her, but I visited on Wednesday. She had a huge bandage all around her body, and the anesthetic had made the vestibular syndrome worse, and she whined continuously for an hour and a half while I tried to calm her. Then she finally napped for a little while.
__
When I told my sister this, she said "Well of course. She had to tell you all about it first, didn't she?" That she did. The techs said everybody in the back loved her, and I can believe that. She's the sweetest dog ever.
__
That was Wednesday. On Thursday, I went to pick her up and bring her home. She came roaring out of the back, climbing all over me while I was trying to sign the discharge papers, and when she got home she immediately picked a fight with her brother. Two days after major surgery, with a suture almost half way round her body. No way people could do that. If it were me, I'd still be whining.
__
She's really been kind of a handful. I was supposed to keep her inside and not running around, but she's acting like she's two years old again. When my wife went out to rake leaves, she circled the family room for two hours trying to be let out. She keeps showing her brother who's boss. It was a hard job preventing her from tearing her sutures before they could be removed the right way.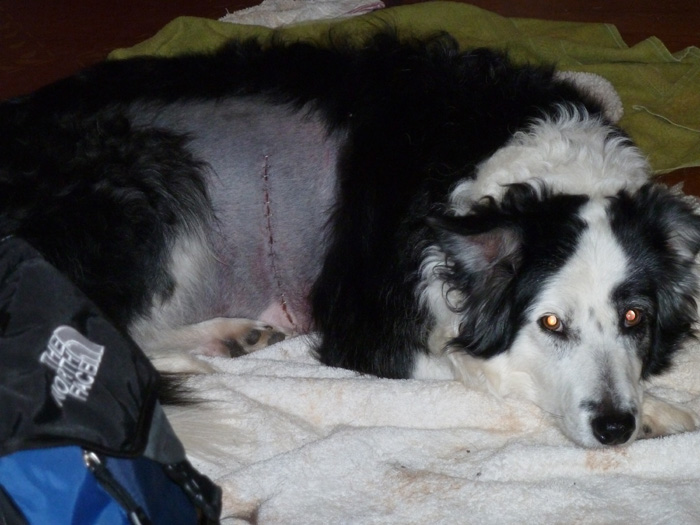 On February 16 she finally got the sutures removed. I also consulted with an oncologist afterwards. She has an adenocarcinoma. He recommended chemotherapy on a three week cycle. The first week she gets cisplatin, which takes all day, and there is a 5% risk of nausea. The second week is off. The third week she gets vinblastin, which takes a half hour and carries no risks. Dogs who don't get this therapy live an average of 6 months. Those who do live an average of 18 months and some live very much longer, years longer.
__
He said there were two very big factors in her favor. It was a big deal that the masses were restricted in the one lung lobe. Had they spread, that would be very bad. And it was a huge deal that her lymph nodes were clear. Basically, we seem to have caught the cancer while it was localized. I interpret this as meaning that she has a reasonable chance of living toward the long end of the probabilities. Maybe I'm dreaming.
__
But this seems to me like all up side and no down side. The only down is a 5% chance of throwing up once a month. We can live with that to reap the benefits. She completed the first cycle yesterday and was a little mopey after the first drug but didn't seem particularly sick.
__
This has been unbelievably expensive. I am so glad that I thought to purchase pet insurance a couple of years ago. I will always have that going forward. I would have done it all anyway, but this has made it much less stressful (at least, it will when they send the first reimbursement check). But I would have organized credit cards and tax returns and whatever resources I could muster to do this. It is the right thing for Sugar and so it is the right thing. She is full of life still. I can't let her go when that is still true.
__
And she's my best friend. Right now, late at night, she is lying in front of the back door, struggling to keep her eyes open, and watching me, making sure I'm ok.
__
Making sure I'm ok. I love my little girl.
__
I'm trying to accommodate myself to the fact that she is old and she will be gone eventually. But for right now, I have to do the right thing for her. She was there for me during some hard times, including the death of my dad last year. So now I get to be there for her. And it was so heartening, for those few days after she came home from the surgery, when she was acting like she was two years old again.