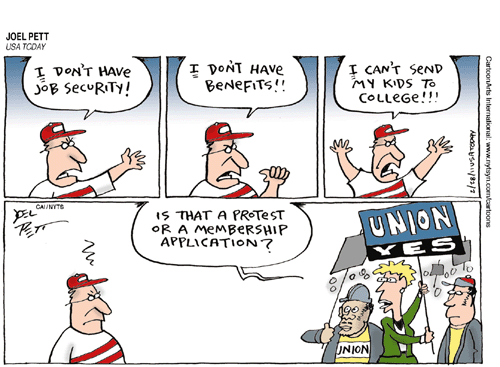 Harold Meyerson at the Washington Post has another excellent, and thoroughly depressing, column on the 'jobless recovery':
… Our current recovery, alas, is different from all previous recoveries that America has experienced since the end of World War II. The earlier ones were marked by wage increases. As the economy picked up and more revenue started flowing to business, those businesses shared the revenue with their employees. Mark Whitehouse of the Wall Street Journal looked at how businesses were dividing up the pie 18 months into every previous recovery since 1947 and found that 58 percent of their increases in productivity trickled down to their workers in increased wages.
__
This time around, the numbers are starkly different. Productivity increased 5.2 percent from the recovery's start in mid-2009 to the end of 2010, he found, but wages rose by a minuscule 0.3 percent. That means just 6 percent of productivity gains have gone to our newly more-productive workers.
__
Where is the other 94 percent going? To profits, which have been increasing at a record clip for the past three quarters. To funds on the corporations' balance sheets, which the Federal Reserve calculates at nearly $2 trillion. To shareholders. To the companies' stock buybacks…
__
Why the difference between this recovery and its predecessors? For one thing, it's happening at a time when almost the entire private-sector workforce is nonunion – 93.1 percent, according to the Bureau of Labor Statistics, the highest level of nonunion employment since some time in the 19th century, before such record-keeping began. Absent unions, workers are dependent entirely on management's willingness to share their increased revenue with their employees. And absent unions, apparently, no such willingness exists.
(Cartoon, Joel Pett via Gocomics.com)